Introducing The Love U Bootcamp!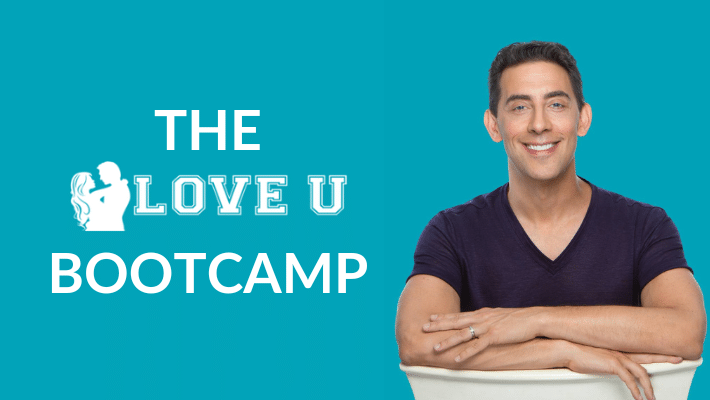 You're a busy woman.
You have a job that gives you purpose and a good salary.
You invest your energy in friends, family, pets, hobbies, and an occasional vacation.
This is what you SHOULD do. This is the definition of having a rich, full, single life.
The issue is that when you get good at being single – and your dating experience has been disappointing – you'll likely double down on what you enjoy. 
MORE work. MORE friends. MORE travel. 
If you happen to meet a great guy, awesome. If not, you're living your best life.
At least that's what you tell yourself.
Secretly, in the recesses of your brain, you have moments when you question everything:
Why do other people have devoted husbands? Why can't you have that, too? Someone to make you coffee on Saturday morning. Someone to listen to you after a hard day. Someone who is a witness to your life. Someone who shares the same goals and supports your dreams. Someone to pick up the check – and the heavy luggage! Someone to make you laugh and make your toes curl. Other women have this! Are you doomed to be alone for the rest of your life?
Maybe that's not your exact thoughts but I've been listening to women for 20 years, and it's a good approximation of what I hear every day. If that resonates, I want to give you hope.
You don't have to be alone. You can get the love you're looking for. He IS out there!
That's why I created Love U, the most effective dating and relationship program for women who have great careers and not-so-great love lives.
There are three main reasons that my regular readers haven't joined Love U: time, money, and belief.
Time – Love U is a six-month program with weekly group coaching calls each Tuesday night. Busy women with demanding careers can't always free up that time.
Money – Love U is by application only and we only take clients who can afford the significant investment to get 50 hours of dating coaching tailored to high-achieving women.
Belief – Love U gets results. That's indisputable. But if you've struggled your whole life with dating and men, you may have moments where you wonder if you'll never find your man..
These are all reasonable objections. That's why I created a brand new course:
DO YOU WANT TO FIX YOUR BROKEN MAN-PICKER?
If you've been devouring my free stuff: emails, podcasts, social media, and livestreams, you clearly want help with your love life but may feel a bit stuck.
In the Love U Bootcamp, I'm offering all of my best material – without a big price tag, without a huge time investment, and with a full money-back guarantee.
If you're a busy woman who wants results fast, the Love U Bootcamp is for you.

If you're a skeptical woman who thinks nothing can help, the Love U Bootcamp is for you.

If you're on a budget but want 5 hours of small group coaching with me, the Love U Bootcamp is for you.

If you're thinking about joining Love U but want to get a taste of it first, the Love U Bootcamp is for you. 

If you're afraid of investing in yourself and want the option of getting a refund, the Love U Bootcamp is for you.
Click here to learn about my first new course in 7 years – a highly condensed and highly affordable version of the original Love U. 
Slots are limited so act now.
Imagine never going on another bad date again.
Imagine having a true best friend, lover, and partner-in-crime.
If it sounds like something you want to experience as soon as possible, that's what I'm offering you today when you join Love U Bootcamp.
DO YOU WANT TO FIX YOUR BROKEN MAN-PICKER?