Why Are Women Expected to Date Men With a Lower Educational Level?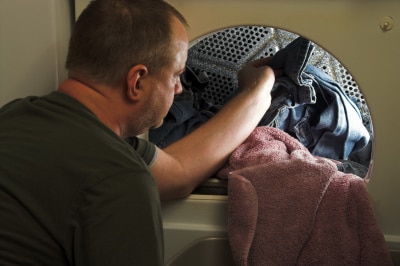 Dear Evan,
I was at a speed dating event last night for the second time. Just like the first time, it was full of smart, pretty, successful women in their thirties and forties and men of similar ages with manual labor jobs (and a few running their own manual labor businesses) but no men of equivalent professional or educational status except for one doctor. Why he was there, I do not know, as he made it clear that he was not really looking to date anyone. He did however buy me a drink in the bar afterwards and asked me what I thought of the event. I said I would be unlikely to go again because I have nothing in common to talk about with the men that I have met at these events.
He proceeded to give me a lecture as to why I shouldn't automatically dismiss dating the two guys who were responsible for service washes in the launderette as they may be perfectly nice people and that career women in their thirties get what they deserve if they don't. I am just wondering how many other men think like this? For me, it seems plain common sense that, while professional women with masters degrees may be compatible with men in less successful professions, the guy that left school with no qualifications to work in the launderette is highly unlikely to be a good fit.
It is not the first time that I have come across the attitude that career women deserve to be alone if they don't want to date men without any education, or men a generation older, or the obese. I am just wondering how many men really think like this.
Fiona
Fiona,
It doesn't matter how many men think like this.
Just like KC's email a few weeks ago about how she receives emails from disappointing men she meets online, you're illustrating an amusing concern with men's preferences in women.
Men do what they want. They don't do what you want.
My answer to you is largely the same as my answer to her.
Men do what they want. They don't do what you want.
If he is a dishwasher and he finds you pretty, he's going to ask you out.
If you don't go out with him because you intimate that you're "above" him on the dating food chain, it's predictable that he might lash out at you.
You may be technically correct that he's not of your social station, but that's of no concern to the man you've just insulted to his face.
Literally, the ONLY thing he can do when you tell him that you have nothing in common (without getting to know him) is tell you that you're wrong for judging people and that this attitude may come back to haunt you.
Women tend to adhere more to their checklists, which usually call for a man who is just like you, but better. And without your flaws.
He's right about that. This is one of the big blind spots that women have in dating.
Allow me to explain.
You painted a black and white world, Fiona. It wasn't that he was less educated than you. It's that he was a laundry operator. It's not that a man is older than you, it's that he's a generation older than you. It's not that he's a few pounds overweight, it's that he's obese. All of your examples are extreme, but not all men are extreme examples of anything.
So, to be crystal clear: no one (besides the fat, stupid and elderly) is saying that you have to date the fat, stupid, or elderly.
Got it? Good.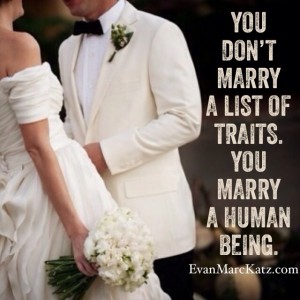 What I am saying — and what these men are inartfully suggesting as well — is that you don't marry a list of traits. You marry a human being. And if you never think outside the box, you may well find yourself standing alone at the end of the dance.
DO YOU WANT TO FIX YOUR BROKEN MAN-PICKER?
The reason that I call this a blind spot for women is because women tend to adhere more to their checklists, which usually call for a man who is just like you, but better. And without your flaws.
Taller. Richer. Smarter. Funnier. Saner. Sexier.
Alas, men don't care if you're taller, richer, smarter, or funnier.
We just want you to think that we're amazing.
Which is why men can date ANYONE — regardless of education, income, and height – while many women can only date 1 in 1000 men who are 6 feet tall, with a masters degree and a $200,000 income.
So are some men unrealistic in thinking that they deserve a chance with you?
Yes, they are.
Are they also correct in pointing out that they are open to a lot more women than you are open to men, and this may hinder your ability to find lasting love?
Yes, they are.
To your original question, no one is saying (apart from the jilted men) that you deserve to be alone. But I would be remiss if I didn't pull out the nugget of wisdom from the flawed logic of the laundry operator.
DO YOU WANT TO FIX YOUR BROKEN MAN-PICKER?