Why Certain Men Will Never Do Well With Women — And What You Can Learn From Them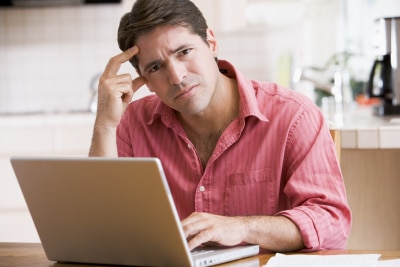 I've got a great story that I want to share with you today.
Even though I bill myself as a dating coach for "smart, strong, successful women", I still maintain a few male clients.
I enjoy working with guys because, when they're motivated, they're hardworking and highly coachable. Plus, the men who gravitate towards me are usually "nice guys" who just need a little bit of an edge to succeed wildly with women.
In other words, most of my men are the one you should be dating in real life — the kind that are open to learning and growth and are willing to spend thousands of dollars to learn how to better connect with women.
The guy who called me today is completely different — and I had such an interesting phone call with him that I wanted to share it with you.
"James" tells me that he's 30 years old, living in Seattle, working in IT. He sounds like a bright guy. A little angry, perhaps, but I'm used to getting clients who aren't too happy with the fact that they're reaching out to a dating coach.
James tells me that after focusing on his career for most of his 20's, he's been dating intently for the past year.
And it's been TERRIBLE.
There isn't a woman in the world who'd enjoy going out with a man who believes that ALL women are fickle and unfair.
It seems that whenever he goes out with women, they're all so SHALLOW.
They never want to TAKE THE TIME to get to know him as a human being.
They're all looking for magical CHEMISTRY and trying to figure out within 5 minutes whether he's their SOULMATE.
The women he wants IGNORE him online, DON'T RETURN his calls after dates, and generally seem to want the PERFECT man.
As a result, James HATES dating.
Now, between you and me, it doesn't take a dating coach to diagnose what ails James. There isn't a woman in the world who'd enjoy going out with a man who believes that ALL women are fickle and unfair.
Still, I sympathized with James on the phone. After all, this IS his dating experience. It's real, not imagined. And it's normal to feel frustration when you can't solve a problem.
I asked James what he thought that I could do for him. He mumbled something about helping him meet women who were different than the women he's been dating.
I couldn't hold back any longer.
"I hate to tell you, my friend, but the problem isn't with all the women in Seattle. And dating coaching isn't telling you where the "quality" women hang out. After 12 weeks of coaching with me, you know who's going to be the same? Women in Seattle. As such, the ONLY thing we can do is change how YOU'RE approaching dating. Does that make sense?"
James paused for a second, gritted his teeth, and said, "I don't want to change very much. The problem isn't with me — it's with THEM. WOMEN are the problem. I'm asking you to help me find better ones. Are you telling me you can't do that?"
"What I'm telling you, James, is that you're the common denominator in your life. And, logically, since I can't change Seattle, or women, or Match.com, or anything else, the greatest shift is going to come in how you approach women, how you understand women, how you flirt with women, how you connect with women. But it's about YOU learning, and YOU changing. That's what yields the best, most long-lasting results."
I can't help someone who doesn't truly want to understand, learn, and grow.
James and I aren't going to be working together. And that's fine by me. I can't help someone who doesn't truly want to understand, learn, and grow.
And the not-so-subtle reason I shared this story with you is to ask you to reflect on whether you have anything in common with James.
Do you think dating is TERRIBLE?
Are you frustrated that men don't take the time to get to know you?
Do you get bent out of shape when men IGNORE you online, DON'T FOLLOW UP after dates, and generally seem to want the PERFECT woman?
Do you think that, if only MEN changed, you'd be in a happy relationship by now?
If so, I hate to tell you, YOU are the one who needs to adjust. Just like James.
You're not "wrong" that men could improve in 100 different ways. You're mistaken in thinking that men are going to improve. Your job isn't to CHANGE men.
It's to become the kind of woman who UNDERSTANDS men, ATTRACTS men, KEEPS men happy, and CHOOSES good men. This is the key to a successful relationship.
And no, it's no different than how James needs to learn to attract, understand, and connect with women in order to keep them happy. Until he does, all he's going to do is complain about YOU, and how unfair you are to him.
In reading my blog, subscribing to my newsletter and joining one of my coaching programs, you have a chance to learn something that will change your life.
The question isn't whether this information can make a difference.
The question is whether you are going to be like James and continue to blame the opposite sex for everything.