Does Online Dating Work To Find Long-Lasting Relationships?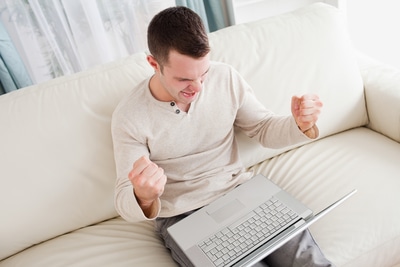 Dear Evan,
I was curious as to what your real opinion is of online dating. I did meet my girlfriend online, but after a year of painful struggle, meaning hardly any dates despite being educated, employed, and reasonably attractive. Friends of both genders say that their experiences have been hard in different ways. My guy friends (also educated, attractive) complain that they get no responses, and female acquaintances tell me that they get so many emails, etc., that they don't know where to start and often do nothing. They don't have time to "date around" several times a week. (actually, neither would I).
I assume that the problem exists due to security. Women, being more vulnerable than men, are more hesitant to date online, so you get a situation where there are a lot more men than women. Aside from my own luck and the trendy radio ads and sexy commercials, it seems as if no one's happy.
Geoff
Dear Geoff,
Glad to hear you found someone special using dating platforms online and even happier that you spoke up. Most people who write about online dating ask what's wrong with it. It makes sense. I mean, that's what news is – emphasize the bad, misery loves company, etc. Turn on the TV, and it's not about kittens being saved from trees but drive-by shootings. That doesn't mean there aren't plenty of kittens saved from trees.
Go to one of those websites that reviews dating sites, and you'll see the same. The average review will be 2 out of 5 stars or something like that. Why? Because people who get married after using dating apps rarely get back online to post happy reviews on websites. They move on with their lives after meeting people, while everyone else complains about using dating sites and the awful people on the sites.
I don't deny ANYBODY the negative experiences that they've had. I just urge you to find some healthier perspective on the whole thing and maybe, if you're going to do it right, enhance your online dating profile. A private client told me just this weekend that she's quitting online dating after three bad dates in a row. Here is what I wrote back to her:
First of all, I've had EVERY bad dating experience you can possibly imagine. I've had women write me nasty emails, insult me over the phone, ignore my phone calls, stand me up, refuse to thank me for dinner, refuse to reciprocate in bed… Are you getting the idea? And yet, I still run around as this super dating advocate because I believe it is the best prospect to find someone special. If you choose to wait for lightning to strike until you go on another date with the "right" guy, you might be waiting a long, long time. Like, FOREVER.
Abstinence isn't the answer. Mustering the courage to persevere in light of bad experiences is.
Listen, you might think I'm nuts to keep on preaching positivity. That's fair. All I know is that it's freakin' HARD to meet someone. We have our small lives: our circle of married friends, our work buddies, a few single people, and that's it. And as you get into your mid-30's, meeting people on the bar scene is really old, and set-ups have become a bit of a joke. While it's nice to say, "I want to meet someone organically, where our eyes meet, so I can feel the chemistry," that simply doesn't happen very often.
DO YOU WANT TO FIX YOUR BROKEN MAN-PICKER?
This is why I believe in online dating. Not because it's perfect – not by a long shot. But because it creates an opportunity to get to know other people where previously there was none. My first love, in 2003, was a Filipino woman that worked in the pharmaceutical industry and lived in a different part of town. I NEVER would have met and been able to get to know her in "real life." But I did meet her on Nerve.com. My best friend in New York married a man she met on eHarmony. My sister married a man she met on Nerve. My sister's best friend married with a man she met on eHarmony. I have thousands of clients who are in a long-term relationship, married, engaged, and in love with people they met using dating sites. And these are just the people that I know well.
So let's acknowledge the flaws of online dating: the liars, the bores, the flakes, the crazies, the morons, the perverts, the poor spellers, and so on. These people exist offline as well. They just have access to you online. So as I see it, you have two choices: quit online dating and make a supreme effort to go to as many parties, coffee shops, and adult education classes as possible OR try to find a way to avoid the worst of the online daters. The third, and most popular choice, is to quit using dating apps and wait for your soulmate to drop out of the sky, like "The Secret" for love. Yeah, keep praying, people.
Your best bet is to keep dusting yourself off, learning from your mistakes, and staying in the game. Sure, sometimes you'll get burned. But sometimes, with enough perseverance (as well as luck, timing, a good dating profile, and a positive attitude), you'll fall in love and have a long-term relationship. And if it hasn't happened to you yet, you can say, "What's wrong with these terrible people on these awful sites?" Or you can ask, "How can I make this work for me, despite the obvious flaws?"
You know where I stand. But I'll tell you, all it takes is one person – and you'll be standing right with me.
DO YOU WANT TO FIX YOUR BROKEN MAN-PICKER?