When Should I Have Sex With Him For the First Time?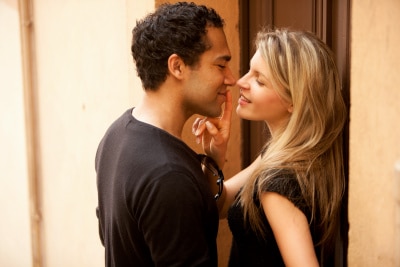 In the latest "Water is wet; News at 11" report, the Journal of Sex Research reports that – get this – having sex too early in a relationship is a bad idea. Shocking, I know.
And before thou dost protest too much because you're the happily married woman who hopped into bed and are still in love 30 years later?
Chill. You're the exception. Here's the rule:
"Investigators surveyed roughly 11,000 people on when a couple first got frisky. Compared to couples who had sex before they started dating or during the first three weeks of their relationship, those who waited actually rated their current relationship as more satisfying and more stable. They also reported greater levels of positive communication."
"Sexclusivity": don't sleep with a guy until he's your boyfriend.
You mean fucking an attractive stranger you've known for 3 hours and hoping that you're compatible in the long run is a bad idea? REALLY?
"There is compelling evidence that waiting to have sex until later in the relationship is associated with better relationship dynamics and outcomes," says study co-author Brian Willoughby, PhD, an associate professor in the School of Family Life at Brigham Young University.
This isn't just conservative Mormon B.S. This correlates with what you know from reality. He sleeps with you on the first date. You think it means he likes you or wants to be your boyfriend. In fact, all it means is that he wanted to have sex with you. He'll figure out in a few weeks or months whether he actually likes you enough to commit to you. But why is sex too early so dangerous? According to the article:
DO YOU WANT TO FIX YOUR BROKEN MAN-PICKER?
Not surprisingly, having sex creates powerful emotional bonds. If those bonds are forged too early, they may saddle a relationship with baggage that can complicate the partnership before both partners are ready, Willoughby theorizes. Having sex sooner might also compell us to stay in relationships that we know aren't built to last, the study suggests.
Finally, "women who delay sex are more driven to invest in their relationships," says one researcher, adding that the research results were consistent across age groups, races, and religious affiliations.
The word I've coined for this is "sexclusivity". Don't sleep with a guy until he's your boyfriend. Wait a month or so before you do so. And if/when you do finally have sex, you are guaranteed that it'll be with a guy who you like, trust, and know enough to be worthy of commitment – as opposed to letting lust take over and then keeping your fingers crossed.
Read the article here and please, share your thoughts below.
DO YOU WANT TO FIX YOUR BROKEN MAN-PICKER?