Another VDay Without True Love (Princess Bride Edition!)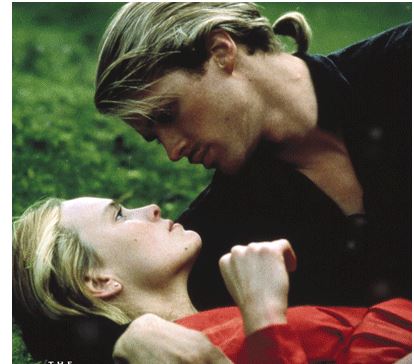 This is a special  post with a special Valentine's Day offer, so make sure you read to the end.
I just finished reading "The Princess Bride" to my kids.
You may think of it as a beloved Rob Reiner movie from 1987, but in fact, it started as a 1973 novel by William Goldman that runs nearly 500 pages.
If you've seen the movie, you know the theme: how deeply Princess Buttercup loves Westley, and how Westley battles giants, rats, swordsmen, and torture chambers to return to his beloved.
What you may not know – unless you recently read the book – is how highly dysfunctional their relationship is.
On the surface, it's all about longing, passion, and the willingness to die for love. But the author subtly mocks the characters throughout as foolish, star-crossed lovers – not unlike the tragic teens in Romeo and Juliet.

Furthermore, they're painted as immature game-players:
Buttercup gives Westley the silent treatment.
Westley abandons her to make his fortune.
Buttercup tests his love by seeing if he returns for her.
Westley lies to Buttercup about his identity.
Can you say dysfunctional? Immature? Terrible communicators?
THAT's the central relationship in "The Princess Bride."
It's easy to say "true love" as the movie does, quite memorably.
But true love isn't what Buttercup and Westley have.
They have infatuation.

You've had it, too, and while it felt great, it didn't lead you to long-term happiness.
Which is challenging, because if incredible chemistry isn't "true love," what is?
I've got your answer below, and I want you to think about it before you react.
True love is when you feel a lack of anxiety in your relationship.
True love is when you feel a lack of anxiety in your relationship.
Love isn't intoxicating. It's the exact opposite.
For most of your life, you've associated love with anxiety – never feeling safe, heard and understood, when, in fact, love is the most comforting feeling in the world.
A good relationship is EASY. If it's not easy, it's not that good.  If that comes as a big surprise, you're not alone.
Most of us remain convinced that Westley and Buttercup are an ideal couple, when in fact, they'll probably end up breaking up in a few months.
And because passion doesn't predict a successful long-term relationship and because it's hard to meet a good man who treats you right, you need a new paradigm for meeting, screening and relating to men.
But you don't even know where to begin. Questions abound:
What do you do if your confidence is shattered?

What if you're out of practice?

What if you're burned out on dating?

What if you've struggled with online dating?

What if you don't get the attention you used to?

What if you can't find men you're attracted to?

What if you can't get the attractive men to commit?

What if you don't even trust your judgment anymore?
This is why I created Love U, my signature course that teaches you everything you need to know about dating, relationships, and men in less than 5 minutes per day.
Thousands of women have already completed Love U with sky-high confidence, soaring self-awareness, and yes, boyfriends and husbands as well.
Right now, you get to join them.
Generally, I launch Love U every six months with a wealth of content over 2 weeks – videos, webinars and a bunch of emails explaining how Love U will change your life.
Not this time.
Starting today, I'm offering Love U on my website ALL the time.
The price of that will be $149/month for six months – an incredible deal that will change your life forever.
But for the next three days – through 11:59 pm on Valentine's Day, you can enroll in Love U for only:
That's literally $3 per day to attain life's greatest pleasure: a happy, passionate relationship that makes you feel like the best version of yourself: beautiful, confident, and cherished.
Right after Valentine's Day, Love U returns to the price of $149 per month, or 50% more than you can get it for today.
Be smart. Join now and save $300 on Love U.
Of course, this isn't about money.
This is about love – and how badly you want it.
For less than a cup of Starbucks per day, you can get the man of your dreams.
You asked for me to make Love U available all the time.
"As you wish," I replied.
Click here to enroll now and save 50% before this Valentine's Day sale ends on Wednesday.
Warmest wishes and much love,
Your friend,

Evan
P.S. Teresa is a Love U Graduate who got engaged last summer.
I wanted to write and tell you that on August 16th, 2017, I received a wedding proposal from my best friend!  I'm not sure if I am the first engaged from the original Love U group, but I bet I'm the happiest!!
George and I have gone through so very much this year! I had a pretty significant health scare, we've blended families and have been patient as my ex husband separated from his new wife of only eight months. All in all it has been QUITE the year!
Through it all, George has been steadfast, strong, eager to please. Everything you said about the "right" kind of guy has been spot on target. This man has made me incredibly, blissfully happy despite the road hazards along the way! 😉  He consistently looks for ways to make me happy, communicates effectively and continues to let his walls down for me.
I originally came to you to learn how to date wisely via online dating. Had it not been for you, I never would have continued online and may have missed out on this love of a lifetime!
I can't believe that I have at last met a man who I honestly want to spend the rest of my life with, the man who is so consistent and reliable, who continues to provide the best possible relationship for us both to grow and flourish.
Thank you Evan, for the role you played getting me comfortable with dating! Despite the obstacles we have faced this past year, or perhaps because of them, we have fused our love and feel completely bonded in a way that neither of us has ever been before. We've lived many years in this one year and it has made our relationship the rock solid masterpiece that we both truly deserve!
I have everything I could want and it is in large part due to you. Thank you for encouraging me and always doing your best to support me along the way. Thanks to you, love has never been sweeter!
All my best to you and your family,
Teresa
You deserve to have this, too, and so much more.
Click here to enroll in Love U (and save $300!) because today is the first day of the rest of your life.