The Most Important Thing You Missed in My Webinar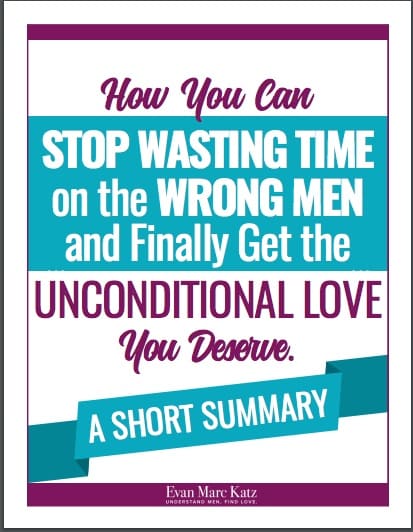 Was it because you were too busy? Was it because you had too much work?
Listen, I understand that a smart, busy woman like you has a life outside of me.
Still, you missed out on some really powerful stuff.
In case you missed it, yesterday, I hosted a free live webinar called How You Can Stop Wasting Time on the Wrong Men and Finally Get the Unconditional Love You Deserve, and, I must admit, I'm still flying high.
Thousands of women from across the globe attended – all unified by the same purpose:
To stop dating selfish, immature, emotionally unavailable men and learn how to spot quality men – even if they're only 10% of the population!
It was the most value-packed presentation I've ever given and I'm very sorry if you couldn't make it.
But you know me: I'm not content unless I've helped every single woman who has ever given me her email or followed my blog. That's why I'm giving you a special gift: a 9-page PDF summary of the live webinar.
Yes, I've cut the presentation by 97% so you can skim this presentation on your phone while you eat your breakfast.
Click here to grab the PDF summary of my webinar and learn EXACTLY what it feels like when you've met Mr. Right.
When you get to the end of the PDF, you'll learn about an exciting limited-time opportunity to join Love U, my signature coaching course which has not been offered since last year.
I'd tell you more about it, but there are two big incentives for you to read this tonight:
1. It's a limited-time offer that ends this weekend.
2. It'll make you see what I see – that you can and WILL get the relationship you desire.
So, please click this link now to learn How You Can Stop Wasting Time on the Wrong Men and Finally Get the Unconditional Love You Deserve, and enjoy the short version of the big event.
I'll follow up tomorrow to see how you liked it, so be sure and read this tonight.
Warmest wishes and much love,
Your friend,
Evan
P.S. Pay close attention to my blog for the next few days. I'll be providing free advice and details on Love U for the next few days until we return to our regular programming next week.
Thanks so much for your time and trust. I'm excited to see you take control of your destiny and create the love you deserve!