My New Site and My Anniversary Gift to You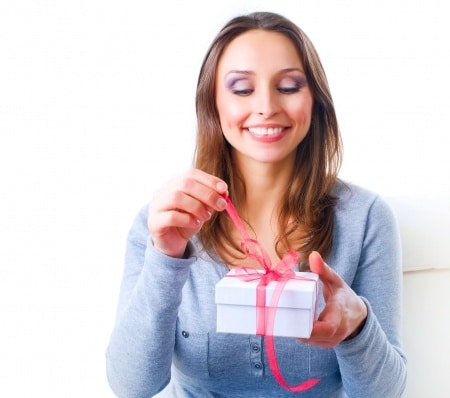 It's my anniversary today.
Five years ago, on a yacht in Marina del Rey at sunset, I married a woman who makes me happier than I could ever have possibly imagined.
I am absolutely thrilled with my easy, fun, drama-free relationship.
I express my gratitude to my wife every chance I get.
If I did it, you can do it. And I say this without any hesitation: the man you're going to marry is out there.
And I always try to remind you that you can have this kind of love as well.
Is that a little annoying? Too sticky sweet when a man openly loves his wife?
I'm aware of that. So why would I keep on doing something, knowing full well that you might get annoyed with me?
I think it's because I identify with your struggles to find love and see myself as a walking advertisement for my philosophy:
1) I had a long journey, with lots of ups and downs (so don't give up!)
2) My wife does not meet the checklist I had for a partner (so let go of your checklist!)
These two facts should give you all the hope in the world.
If I did it, you can do it. And I say this without any hesitation: the man you're going to marry is out there.
You haven't met him yet. You don't know what he looks like, what he does or when he's going to show up in your life.
All I know is that you're going to be in love, sooner, rather than later.
Like me, you've also had a long journey.
You've rolled your eyes at the lack of quality men on Match.
You've wasted time on attractive, commitmentphobic players.
You've been bored by weak and needy "nice guys".
You're ready for the real deal and you're going to do everything in your power to make love happen now. That's why you're reading this.
And that's why I'm going to do two special things for you today.
First, I'd like to invite you to look around the new EvanMarcKatz.com.
The first thing you'll notice is how clean it is. Deep purple and cool turquoise. Big video up top. Simpler menu. Blog and testimonials on the home page. New tagline: Understand Men. Find Love. These are pretty features, but they're all cosmetic.
What really matters is what's in it for YOU.
Here are the top 3 things you need to know about the new site.
1. From a demographic study, I discovered that 20% of my readers are in relationships, 40% of them are dating, and 40% are taking a break.
Because of that, there are three boxes on the home page, correlated to which phase of dating you're in. When you click on the appropriate box, I recommend a course of action to you. Maybe it's reading "Why He Disappeared". Maybe it's joining FOCUS Coaching. Maybe it's getting started with "Finding the One Online".
No matter who you are or what you're feeling, I'm offering a clear-cut path for you to follow when you navigate my site.
2. I've often gotten the sense that people who read my newsletter don't read this blog, and people who read this blog don't read my newsletter. I'm trying to change that. Because if you enjoy this blog, you're going to love the inspiring weekly emails I send out on Tuesdays with more free dating advice.
And if you're a regular blog reader, I hope you get to enjoy the upgrades. Now, when you get here, I have a big search box at the top of the blog home page for you to type in your own dating questions, and a colorful categories section on the right where you can search through 6 years of archives, which covers nearly 1000 previous blog posts.
3. I've been doing this for 10 years. I've had tens of thousands of women purchase my products, and nearly 1000 private clients over the past decade. Yet to this day, I still get questions about my effectiveness from strangers and journalists:
– What is your success rate?
– Can I talk to some of your previous clients?
– Who the hell are you to help anybody? You're not a doctor!
As charmed as I am by people who question my credentials, I think nothing speaks louder about my success as a dating coach than the women who've been successful after working with me.
And despite the fact that I'm a lot of women's dirty little secret (and they don't want to show their faces), I've compiled a bunch of client success stories for each and every one of my products.
This is the page that gets me up every day and is easily the highlight of my new site.
Take a look and ask yourself if you'd like to be next.
https://www.evanmarckatz.com/success-stories/
Because what I'm giving you next week is all but unprecedented.
Over $1000 worth of dating coaching for only $1.
This is my gift to you — for being a regular reader, for trusting me to guide you, and for my gratitude that I'm celebrating my own 5-year anniversary today.
Stay tuned for next Tuesday's blog post and you will receive the following material when you join my FOCUS Coaching community:
As charmed as I am by people who question my credentials, I think nothing speaks louder about my success as a dating coach than the women who've been successful after working with me.
Past Baggage — Whether you're on a break, dating, or in a relationship, your past experiences often negatively impact your future choices. Let go and learn to be your most confident, trusting self in relationships. $47 Value!
Meeting Men in Real Life — When online dating doesn't yield results, how do you create opportunity to flirt and connect wherever you go? I'll tell you the answer in this powerful live coaching session. $47 Value!
Commitment — How do you navigate the minefield of dating to get a boyfriend? How do you communicate your long-term goals? How can you be sure you're investing in the right man? Listen closely and I'll share everything I know with you. $47 Value!
How to Understand Male Dating Behavior — My most powerful interview ever, where I reveal my own hypocrisy in order to help you understand men. $24.97 Value!
Create a Love That's Bigger Than You — A valuable audio interview that will allow you to redefine your relationships with men and create a long-term commitment. $24.97 Value!
Live Monthly FOCUS Call with Interactive Q&A — Each month, I cover one topic about dating and relationships and answer YOUR questions about it. Soon, you'll make the right dating decision in every circumstance, without further coaching. $550 Value! (Yes, that's what I charge for one hour of interactive coaching!)
CD /newsletter recap of your live FOCUS Coaching Call — to read, to absorb, and to internalize your permanent understanding of how men think. – $97 value!
Membership in my FOCUS Coaching Forum — a home for you to get support from hundreds of other smart, strong, successful women around the world, all of whom are going through the same dating dilemmas as you. Tap into the collective wisdom of the most amazing community of women anywhere. – $47 Value!
FOCUS Newsletter and Binder — to recap and archive your knowledge surrounding each month's relationship topic. Easy access to everything you need to know about men, in one place, forever – $37 Value!
PLUS an exclusive 20% discount on my other products (Up to $183.20 in savings!)
That's a lot of stuff — and a lot of stuff to think about.
You've got four days.
In the meantime, keep saving up that $1, take a look around my new home, and let me know what you think about the site.
Warmest wishes and much love,
Your friend,
Evan