What I've Wanted to Say to You for the Past Year: Thank You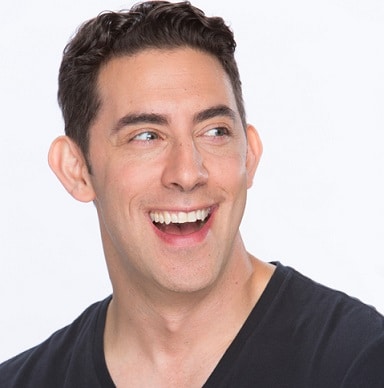 I've had a shitty past year.
Wife, great. Kids, great. Evan: not so good.
The quick rundown:
I went four days without sleeping  on a Matchmakers cruise last March and literally forgot how to sleep. I've been on an anti-anxiety cocktail ever since.
I severely sprained my ankle at a summer camp for entrepreneurs last August and never got my mobility back, much less returned to playing basketball. Ugh.
Last month,  a door closed  on my right hand near the door hinge in the bathroom of a Hollywood  bar. Nothing was broken, but two  fingernails are bloody, black and numb – apparently for the next year, until they fall off and grow out.
And listen, that's fine. Middle-aged man maladies are not unheard of. But, to be frank, my biggest challenge has been my business. For seven years, I had the same tech team. They were my business partners, my best friends, the equivalent of my work wives. Last fall, they decided to start their own company. They gave me two months notice. They interviewed other tech teams. They were classy. I can only liken it to an amicable divorce: "We had a great run, now we're moving on."
I've been struggling to find my footing ever since.
Plans to relaunch Love U were scrapped. A new team was  tried, which wasn't a good fit. And, as most small businesses know, everything takes twice as long and costs twice as much as originally expected. The good news is that I'm finally seeing the light at the end of the tunnel. Soon, there will be some  exciting new offers to help readers like you understand men and find love. I guess that's why, after a year of frustration, I'm writing this post. I've had lots of time to think.
And what I've realized is that I'm grateful. Not in that pseudo-humble, prayer-hands emoji, universe-loving way. I'm really, truly, deeply grateful.
Since the beginning of the year, I've written in my 5-Minute Journal every morning and every night. It asks me to record what amazing things I accomplished each day, what I could have done better, and three things  I'm grateful for each morning.
What I've realized is that I'm grateful. Not in that pseudo-humble, prayer-hands emoji, universe-loving way. I'm really, truly, deeply grateful.
Looking back, I see patterns:
What I accomplished each day almost always involves work and something fun with my kids.
What I could have done better involves not reading my phone in front of my family, not arguing with strangers on Facebook or my blog, and not expressing frustration with the growing pains of building a better business.
What I'm grateful for varies wildly. Sometimes, it's a sunny day in Southern California. Sometimes, it's a good night's sleep. But most often, I'm grateful for people. My wife. My kids. My mom and sister. My co-workers, Kim, Cindy, Krystal, Amanda, Dan, Jackie, Angel, and Emily. My clients (especially the ones who invest in coaching, get married and send wedding photos.) And, of course, there's you, my blog readers.
As you know, there's a symbiotic relationship between author and reader. The author writes to be heard. If he's not being heard, he doesn't feel content. When he is being heard, he hopes for praise and affirmation. When he doesn't get praise and affirmation, he wonders why he writes at all. And around and around we go.
I've written a bunch of  books. I've been on TV, magazines and hundreds of websites. But I always come back to this frustrating place,  this home I built with thousands of regular guests that I futilely try to please.
And I have to admit: like my other meaningful long-term relationships – with my wife, with my business team, with my friends – I love it.
I love your intelligence. I love your wit. I love the challenge of responding to those who force me to look deeper, explain myself better, or even change  my position.
I don't love being misunderstood, misquoted, or trashed in my home. But I do know that it beats the alternative – shutting down my  home because the kids are often unruly.
Of course you are. I wouldn't have it any other way.
Now, words on a blog post don't begin to capture my essence, anymore than they capture yours.
If you only read blog comments, you may think I'm combative.
If you watch the podcast, you'll see a softer side when I'm coaching women.
If you subscribed to my newsletter, you'll hear a more empathetic story teller.
If you joined Love U, you'd get a larger sense of my personality and my beliefs.
And if you were in my house, observing me with my wife and kids after work, you'd see a side you can't witness  from here: warm, sensitive, generous, playful family man.
To all of you, I say thank you.
That's who I really am. That's who I wish you got to see more often. And I guess that's why I'm writing this today. Really, it's the same reason I'm assuming most writers write – because we have something to say, because we're trying to work out our thoughts, because we ultimately want to be understood.
I don't get all of that every day from this blog. But I take what I can get. Sometimes, it's a public compliment. Sometimes, it's a private email. Sometimes, it's a reader  who articulates my feelings better than I can. To all of you, I say thank you.
Thank you for continuing to engage in this important dialogue about dating, relationships and gender dynamics.
I appreciate you, and I want to acknowledge that this place isn't the same without you.
You make me feel connected, and for a writer, that's pretty much all one can ask.
Warmest wishes and much love,
Your friend,
Evan
P.S. Your thoughts, below, are always greatly appreciated.