The Attitude of Gratitude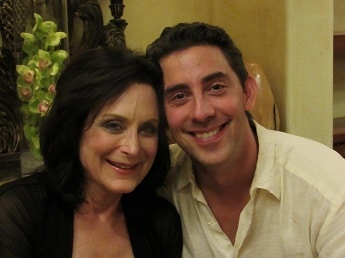 Tracey might be the most grateful client I've ever had.
Every time I offer her advice in my Love U More program, she immediately tells me how appreciative she is of my presence in her life, and how much she has grown since she began working with me.
Here's the email she wrote immediately after the Love U Graduate Retreat:
Hi Evan and Bridget!
Thanks so much for all you both did to create such a spectacular weekend!
Bridget, I appreciate your attention to detail and the lovely weekend you planned. Evan, I loved the teaching and coaching, and love, love, love the book you created for us. You both gave so much and were so generous with what you planned, with our goody bags, all the wonderful food and drinks, and mostly, with your hearts.
It was so much fun!! And…it was wonderful to connect with you and all the Love U women. Thanks for being so generous and thoughtful and incredible!
Love you both!
XO
Tracey
Is Tracey a little over-the-top? Maybe.
But I'll tell you this: Tracey is ALWAYS going to have her pick of men.
When she first turned to me for coaching, she was getting out of a 20+ year loveless, sexless marriage, where she consistently felt like a doormat.
Her husband repeatedly turned away from her bids for affirmation and affection and slowly drained her naturally sunny disposition over two decades.
By the time Tracey bought her first EMK product, she was a shell of her former self. But what I did not know about Tracey at the time was how insatiable she was for transformation and happiness.
In short order, Tracey devoured Why He Disappeared, followed by Finding the One Online, then Believe in Love.
Tracey learned from me and my products — how to let go of the past, embrace the present, and carry yourself with warmth and confidence.
In 2015, she joined FOCUS Coaching, which later turned into Love U. She absorbed all the lessons, the
mindset shifts, the online dating coaching, and the tips on being the CEO of your own love life.
Shortly after joining Love U, she fell for an amazing man who just turned out to be emotionally unavailable following a divorce. It may have hurt, but it showed Tracey that she could love and trust again. After a brief recovery period, she went back online and, sure enough, found another man within months.
Matt is a passionate alpha male: successful, opinionated, loyal, generous and protective. He quickly pledged his love. He took her to Europe. He communicated well and often apologized when he was wrong. But after seven months together, Tracey decided it wasn't enough. While Matt was often a great boyfriend, his negative disposition ultimately brought her down.
Instead of staying with Matt for 20 years and thinking it was her fault that she couldn't make the relationship work, Tracey broke up with him directly after the Love U Retreat.
You may call that failure. I call that success.
Tracey is in her 60's, in great shape, and financially secure. Most of all, she is fundamentally a happy, giving, warm person who wants to find a similar man.
That is a reasonable and achievable goal.
That is what Tracey learned from me and my products — how to let go of the past, embrace the present, and carry yourself with warmth and confidence.
And yes, you've heard this a thousand times before, and it sounds great, but the biggest missing piece for women is how you get there. I tell you how in each of my products, so all you need to do is figure out which one best applies to you based on where you currently are in your "relationship life cycle" and take advantage of this special offer before it's gone.
Just like Tracey did. Never again will she waste years of her life with the wrong men. I can assure you that if Tracey wants to get married again, she will get married again.
I can assure you that if Tracey wants to get married again, she will get married again.
Her warmth, openness, and appreciative nature are catnip to the many men who never felt fully appreciated and understood by their previous partners.
Whether you're still mourning the relationship with the last guy, afraid to date again, or actively pursuing love, I have a special opportunity for you.
My  Summer Appreciation sale ends on Sunday night at 11:59pm Pacific  and I am giving you  50% off  of ANY (or ALL!) my three bestselling products:
Just type in promo code:  THANKS2016  to take advantage of this offer, and remember:
You have a lot more control of your destiny than you even know.
You are  not  meant to be alone.
All the good guys are  not  taken.
Millions of people have happy marriages and you can be one of them.
But you can't stand pat. You can't do nothing. You need to act now.
(Don't forget to use promo code: THANKS2016)
50% off of Believe in Love and Finding the One Online until Sunday – just because I appreciate you and want you to change your life today.
Warmest wishes and much love,
Your friend,
Evan
P.S. Here is Tracey and I at dinner on the last night of the Love U Graduate Retreat:
P.P.S. Janet followed the advice from this email – and from my three products – and is now with the love of her life. Here's what she had to say:
Dear Evan,

I want to take a moment to thank you for doing what you do.
A little more than a year ago, I bought your books, hoping to get some insight into why my relationships were not lasting more than a few months. Why things seemed so promising at first only to crash and burn shortly after. It wasn't any one specific thing you wrote that was helpful – like following advice step-by-step. But, I think it was the cumulative affect of many of the things you wrote – the perspectives you shared – that helped me shift my own perspective. And  shifting that perspective I think is what opened the way for me make different choices. Choices that led to me finding the right man. Finally.
Before I met the man I'm now with (The One), I could not believe it was possible to have the relationship I wanted. So many disappointments. Because of that, I put up with so much from commitment-phobes, narcissists, players, etc. Because I thought that was as much as I was gonna get so I better try to make the best of it. Even though in my mind it thought "It's better to be alone than have these disappointing experiences," any glimmer of hope with a potential new relationship kept me trying and trying and trying.
But, I read your books with the attitude that the way I've been doing it is not working, so I need to give this a try. I think the two most valuable insights from you were:
If he doesn't treat you like a boyfriend – communicate with you regularly (text, call, whatever) and the relationship isn't progressing, cut your losses fast and stop investing time, emotion, effort, period. And do that because you know he's not the guy for you. Stop trying to figure out why you're not the one he wants. Focus on whether or not he's equally in it with you and if the answer is no, get out and stop wondering why it's not working or trying to fix it. Because the Right Guy will be in it too, and the Wrong Guy will not. Stop trying to make him the Bad Guy or the Fixable Guy. Just know he's not the Right Guy and move on. Move on even if you're not convinced there is another down the road.
Stop dating with husband hunting in mind.  Give guys who you don't think are "your type" a chance.  You may be missing the Right Guy because he doesn't look the way you think he will or has the job you think he should. Focus on just dating to meet people and get experience dating, which takes the pressure of both of you and creates a more fertile environment for you both to be relaxed, be yourselves and let things evolve if they're going to.
Because I was able to really take in those perspectives, I am now with a man who loves me in the way I've always wanted. He shows it daily. He says it daily. He's THERE. All the time.
If I had judged my partner Karl by the superficial stuff in his personal ad – younger than me (I'm attracted to older men), has a pony tail (what's with that?), likes to hunt and fish (I don't), no college degree (I have) – and not gone one a date with him, I would have missed out on my future partner and love of my life.
I went on a date with him because I told myself (thanks to you) that the goal was to meet men and go on dates with men who seemed nice and interested rather than based on whether or not their profile met what I thought was my husband checklist criteria. Reading your books helped me get to that perspective. So I gave a guy I didn't think would be good candidate a chance, and we've been together for a year now and are planning our future.
So, keep those messages coming. Some day, some woman will read them with an open mind, and she may take your advice, which may lead her to find true love. I was lucky. But I also led myself in that direction. If it can happen to me, which I thought was impossible (being 48 years old and never married), it can happen to anyone. Really.

Warmly,

Janet
Janet didn't change her personality. Janet didn't give up attraction. Janet didn't settle. Janet is ecstatic and in love, all because she shifted her thinking and approached dating from a different angle – with more openness, trust, and vulnerability.
You can, too.
Click here to get started and don't forget to put in THANKS2016 to get 50% off.
Offer only good through 11:59pm Pacific Sunday night!