Wow. You Have To See This.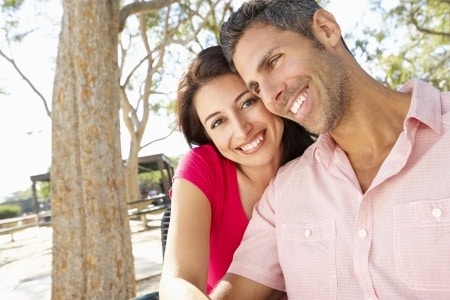 The response to my $1 for $1000 of dating coaching sale has been overwhelming.
Who knew that so many women had one spare dollar to spend on the most important thing in the entire world?
Actually, I did.
What I didn't know is that there would be any women reading this blog post who have NOT participated in my quest to get you happily married.
Yes, I'm talking to you.
I try not to take things personally, but really?
Six hours of my finest material on understanding men, meeting men in real life, getting rid of past baggage, and creating lasting love, and you can't spare a buck?
I know times are tight.
So if you won't believe me when I tell you that my material will change your life, will you believe one of my most trusted clients, Christine?
I know I give you a lot of information for free and $1 is technically not free.
I know you read my blog with a combination of curiosity, skepticism, and frustration.
So if you won't believe me when I tell you that my material will change your life, will you believe one of my most trusted clients, Christine?
"A few years ago, I was feeling increasingly frustrated with my dating life. After divorcing an emotionally unavailable man after 23 years of marriage I had two difficult, long-term relationships with men who were not stepping up and I had gotten used to being treated badly. I'd had some difficult family situations to deal with as a single mother and Evan provided me with my first 'Aha' when he told me 'You've been a great mother to your children, and a good daughter to your elderly mother, but who's been there for you, Christine?' This actually made me cry. I had been the 'go to' person for my children and the men I was dating were narcissists who had me hooked but were not good men.
I needed to understand that I deserved more than this, that there were some good men out there. Although it wasn't going to be easy to find them, I believed with my new tools from FOCUS Coaching that I could do this.
I learned a lot and made some good friends through the FOCUS Forum – that by leaning on Evan and other women in the same situation, I could get better and better at dating. The most important thing I learned was that I didn't actually want or need the type of man I thought I wanted. That my type was not, in fact, my type!
I was able to make dating fun and behave like the woman I wanted to be. I became the CEO in charge of my own life, and not subject to the whims of men. Although I had dated lots of nice men online there was one man I had met in 'real life', who was there in the background. I'd placed him firmly in the 'just friends' box, but once I took a long, hard look at what I really wanted in a man to move forward to a healthy and satisfying relationship I realized he was all of these things. Actually it was Evan who pointed this out and simply said 'Date him!'
I started out slowly but I hung in there and thank God I did. Now today, I'm 8 months into the best relationship I ever had, with a man I am very much in love with. It gets better and better. Dave is already talking about buying our perfect house so we can spend our lives together.
I now feel 'Safe, happy and secure' … which was exactly what I wrote I was looking for in my online profile well over 5 years ago!"
What Christine didn't tell you was that she started off as a $5000 private client, she moved to my $497/month Inner Circle, and finally landed in $47/month FOCUS Coaching. That's where she ended up figuring it out and finally finding Dave.
Christine put her money where her mouth was — and it paid off immeasurably.
Next year, when you're in love and you write to tell me that this was the day your life turned around, we'll both be extremely glad you took action.
You don't need to spend money.
You just need to act now before this once in a lifetime sale ends on Sunday.
Is it possible that you don't need to part with a dollar to find love?
Of course it is.
You can keep doing what you're doing now.
You can keep reading these blog posts until I drop dead from carpal tunnel syndrome.
You can check out my fancy new website and look up answers to all the dating questions that have ever plagued you.
Or you can do what over 600 women have done in the past 48 hours:
Click here to access $1000 of dating coaching for only $1.
Next year, when you're in love and you write to tell me that this was the day your life turned around, we'll both be extremely glad you took action.
Warmest wishes and much love,
Your friend,
Evan
P.S. You know I've got an endless amount of these FOCUS Coaching success stories, right? Is there any reason you wouldn't want to be one of them — for a dollar?
I'd been actively online dating for 13 months when I joined FOCUS Coaching. I was feeling frustrated because I was going out on lots of dates and had a semi-relationship, but didn't have the fulfilling, real relationship that I wanted.
I needed to better understand dating from a man's perspective and wanted ideas for doing things differently because what I was doing wasn't effective.
Thru FOCUS Coaching, I learned the importance of flirting and making a man feel good and appreciated. I also learned how to move through the 2/2/2 process in a fun way and how to have fun on the dates myself, even when the dates didn't lead anywhere.
I had to date 13 more months and have a couple more semi-relationships, but I'm now in the best real relationship I've ever been in with a man who is a fantastic person and a fantastic boyfriend and wants the same things that I want, marriage and kids. I had basically given up on kids when I turned 38. The fact that he wants kids too is a bonus that I wasn't expecting.
The relationship is so easy. Our friends feel like we've been together forever, admire our relationship, and want to plan our wedding, although we're enjoying the journey and not jumping ahead just yet. He makes me feel safe, heard, and understood, and he lets me know how much he appreciates that I do the same for him. He's told me that one of his favorite things about me is that he feels like he can tell me anything and that I won't judge him. It took time and a lot of growing for me to become that kind of girlfriend. For that, I feel very, very grateful and happy!
Thank you, Evan, and thank you to all of the ladies in FOCUS Coaching, present and past! Ladies, do not give up online dating. If I'd given up, I wouldn't have met my boyfriend. He didn't enter my dating pool until 25 months into my online dating journey.
FOCUS Coaching works.
Get six hours of it for $1 with no further obligation.
Hurry. The sale ends Sunday.