How You Can Go from Drowning in Sadness to Glowing in Love in One Year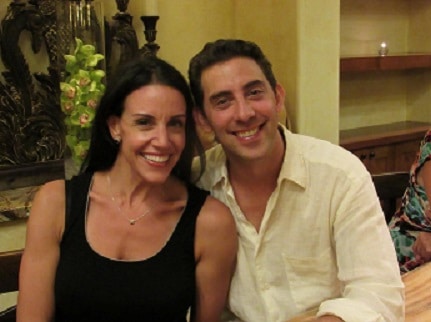 It was the last night of the Love U Graduate Retreat at the Four Seasons in Scottsdale.
10 women who were in my 2015 Love U Inner Circle had just finished three days of hiking, cooking classes, luxurious dinners, cabanas by the pool, female bonding and one-on-one relationship coaching. It was an EPIC weekend.
By Sunday evening, most of the women had already gone to bed, but Nicole stayed up to share a drink with me and my wife, under the stars.
Nicole is 39. She works in medicine, she is beautiful and she has a lot of love to give. Yet when she came to me last year, she was lost. After a painful divorce that gutted her self-confidence, Nicole said that "dating felt like drowning."
Cut to today:
Nicole is in the greatest relationship of her life. Brian is a sweet, generous, relationship-oriented divorced dad — who wants to have more kids.
One year ago, Nicole was convinced that such a person didn't exist. Now, she's in love with one and is consistently amazed at how Brian does everything he can to make her happy. Three months in, they're already talking about a future.
I'm proud to say that 7 of the 10 women at my retreat have boyfriends that they did not have last year, but I take special pride at Nicole's accomplishment.
Not only was she further behind when she started — her lack of self-confidence being the most obvious manifestation — but now she is GLOWING.
Ask her and she'll say that she "doesn't even recognize the woman she used to be last year" — that's how far she's come in such a short period of time.
Right there, under the stars, that's what Nicole wants to let me know.
She hugs me tight and whispers into my ear:
"You did this. I would not be here if it weren't for you. I need you to take credit for that instead of deflecting it. You're the reason I'm in love and am going to have the family I've always dreamed of. And any time you're having a hard day at work, I want you to picture my smiling face and remember how much of a difference you're making in the world."
It took all my strength not to cry.
It's wonderful — and wonderfully rare — when you are fully appreciated.
Everyone wants to be appreciated.
You want to be appreciated by your boyfriend.
Your boyfriend wants to be appreciated by you.
You want to be appreciated by me.
I want to be appreciated by you.
Every time I hear from you, every time I meet a client in person, every time I look in the family room and see my wife and kids playing on the floor, I feel a deep sense of appreciation for what I've got.
I am surrounded by love everywhere I go and it makes me want to give you that same feeling. Which is why I want to offer you a belated birthday gift (I turned 44 on my retreat) — that will help you attract men, understand men, and choose men who are devoted making you happy — just like Nicole's Brian does for her.
This year's Summer Sale is 50% off ANY (or ALL!) of my three bestselling products, Why He Disappeared, Believe in Love, and Finding the One Online.
Why He Disappeared not only teaches you why men pull away from you after a first date, during courtship, and in a relationship, but it will also instantly help you get over the man who broke your heart. Tens of thousands of women have had their eyes opened and their lives turned around by Why He Disappeared. You can, too.
Click here to understand men and heal your past.
(Use this promo code to get your 50% discount: THANKS2016)
Believe in Love shows you how to get back out there and date with confidence. If you're tired of dating and have trouble believing that love is in the cards for you, this is a must-read. It comes with a 65-page workbook that will literally walk you through the transformative process from despair to optimism. Soon, you'll be a man magnet who can attract commitment-oriented men wherever you go.
Click here to Believe in Love — and create new love once again.
(Don't forget to use promo code: THANKS2016)
Finding the One Online gives you the tools to attract the best men online. In this comprehensive series, you'll learn how to write a clever username, craft a brilliant profile that attracts quality men, and weed out the wrong guys using my 2/2/2 email technique. If you want to get the best results out of online dating, this is a must-own.
Click here to attract the best men online.
(Don't forget to use promo code: THANKS2016)
This 50% off Summer Sale is only available until Sunday night – and not only can you save almost $200 if you act now, but these products combined teach you everything there is to know about confidence, dating, online dating, and understanding men.
The same way Nicole expressed her appreciation for me, I want to express my appreciation for you, and I hope you take advantage of this incredible offer today.
Nothing would make me happier than getting an email from you after you find yourself in the kind of relationship that lets you relax and enjoy.
Act now. The Summer Appreciation Sale is over on Sunday!
(Don't forget to use promo code: THANKS2016)
Warmest wishes and much love,
Your friend,
Evan
P.S. Here is Nicole and I at dinner on the last night of the Love U Graduate Retreat:
P.P.S. Here is one of the thousands of appreciative emails I've received from women like you who want to believe in love but are struggling to move forward:
"I was a 30 something, never married, single woman who had spent most of her 20's focused on education and career, not even knowing what I really wanted out of a long term relationship. Once I decided I wanted to get married, I began dating with that in mind, but not very effectively.
I signed up for Evan's coaching, thinking I'd "give it a try for 3 months." Now almost 3 years later I am still enjoying the learning that takes place with him. The major 'aha' Evan helped me learn to be a more effective dater were to lean back and mirror a man in the dating stage, rather than chasing a guy myself. I had to learn to be more receptive to a man's courting gestures, which turned out to be a lot of fun.
As I got more comfortable with his more effective ways of dating, he taught me to relax, not overthink, enjoy letting the relationship unfold in due time, and "not try to read the last page of the book before I read the entire book." I am practicing that lesson with my current boyfriend of 7 months. He often comments how impressed he is with my ability to go with the flow and how easy it is to date me.
I did share my lessons learned from Evan with my boyfriend, and he loves that I am so self-aware and communicative to prevent common relationship issues before they come up. I am enjoying seeing how our relationship grows and the time we spend together is awesome. I couldn't have a better boyfriend, that likely I wouldn't have without Evan's coaching. Thanks Evan!
Erin"
Click here to save 50% on any one (or all 3!) of my three bestselling products, Why He Disappeared, Believe in Love and Finding the One Online.
(Don't forget to use promo code: THANKS2016)