Getting Started with Love U Masters Coaching
Do these two things and you're all set:
.

When you're done, we  will reach out to schedule the regular bi-weekly coaching time that works best for you.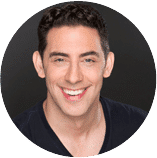 And in case you forgot, here's what you receive in Love U Masters Coaching:
26 weeks of Love U videos and audios (about ½ hr/week).
26 weekly exercises and transcripts.
My signature book, Why He Disappeared – Everything you need to know about why men choose some women and not others.
My Believe in Love program – a 250-page book, 6-hour audio, and 65-page workbook to help you leave the past behind and confidently resume your search for love.
My Finding the One Online audio program – A comprehensive home-study guide about how to master online dating: 7 hours of audio, a 180 page transcript, and a 35 page workbook.
My FOCUS Coaching Archives – 18 individual coaching calls on topics that supplement the Love U Curriculum.
Online dating profile written by me – I will create two 200 word essays for you after you fill out my e-Cyrano questionnaire and we discuss it for an hour.
Professional online dating photos taken by LookBetterOnline.
A 60-minute client intake session – where I can learn more about you and your past before you dive into your Love U Curriculum.
Biweekly private coaching calls – for the duration of Love U Masters Coaching, where we discuss the specifics of your love life.
Finally, all private coaching sessions can be recorded and emailed to you upon request. Unlike therapy, where you have a great conversation and forget what you said, you will have a record of our entire dialogue, and be able to refer back to your "aha moments" as needed.
---
Congratulations on choosing Love U Masters Coaching.
I promise to always give you my 100%. Soon, you will understand men and make better relationship choices for the rest of your life!
Warmest wishes and much love,
Your friend,