Why He Disappeared
The Smart, Strong, Successful Woman's Guide to Understanding Men and Keeping the Right One Hooked Forever
Your last breakup caused months of painful second-guessing. Why did he pull away? What did I do wrong? Can I get him back? What do I do now? How can I make sure this doesn't happen again? The reason you struggle to answer those questions is simple: you're not a man. Therefore, you've never fully understood what your ex was thinking when he was dating you.
In my bestselling eBook, "Why He Disappeared", I answer every single one of your lingering questions about men. Soon, you'll understand why some men don't want to go out with you, why others will sleep with you without committing, and why your boyfriend might not want to be your husband. I will also explain to you, once and for all, how much of the break-up is your responsibility, and how much had to do with the fact that you chose an incompatible partner.
If you're sick of being heartbroken and confused, and are ready to finally attract the man of your dreams, "Why He Disappeared" is a must-read.
Believe in Love
7 Steps to Letting Go of the Past, Embracing the Present, and Dating with Confidence
You're burned out on dating. Frustrated at relationships. Tired of Tinder. Skeptical about men. Doubtful that love is ever going find you. You don't know why you'd even bother to date again, given that dating has caused you so much pain in the past.
Yet you know that you've never been happier than when you were in love. You remember the joy, the excitement, and the connection of your best relationships. No matter how much failure you've had in romance, you still dream of having the whole enchilada — passion, comfort, laughter, friendship, compatibility, and commitment.
Yes, you still want it all. You just don't want to risk getting hurt again.
That's why I wrote "Believe in Love." Because while dating can take a toll on your emotions, it is ALWAYS worth it to keep going. In this inspirational, must-have book and workbook, I walk you through an easy, 7-step process that gives you all the tools you need to date with confidence and optimism, and attract the man of your dreams.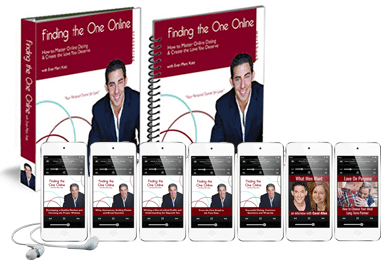 Finding the One Online
How to Master Online Dating and Create the Love You Deserve
Let me guess: you tried online dating and gave up.
Too many men who lie about their age and height. Who refuse to spell-check. Who prefer younger women. Who write nothing in their profiles and emails. Who want to meet too quickly. Who drop off in the middle of a conversation. Believe me, I've seen it all and I couldn't be more sympathetic. Then again…
Did you know that nearly 35% of all marriages in the past 3 years started online? And that 50 million Americans have also tried online dating? Put those two facts together and the evidence is clear: online dating is working for millions of people.
So why hasn't it worked for YOU?
If you don't know the answer, check out my audio series, "Finding the One Online". In no time, you'll choose the right website, craft a creative username, write a one-of-a-kind profile, attract more high-quality men, and be able to use my fast and flirty email technique to screen the best possible suitors.
In a world where it's hard to meet men in real life, online dating is the best option around — if you know how to use it properly.
e-Cyrano Online Dating Profile Writing
"I'm nice, smart, kind, warm, honest, fun and successful. I like hiking, biking, movies, music and travel. I'm looking for my best friend, lover, and partner in crime for a lifetime of love and laughter. If you want to know more, ask me later."
I don't know you, but I'm going to suggest that your online dating profile sounds something like that. And that's okay. Most people describe themselves with a similar list of adjectives, activities and clichés.
You may think this is no big deal; after all, men are only interested in photos, right? Wrong! The man you want to marry absolutely cares about what you have to say. Plus, what has your generic profile gotten you so far? Lame emails from men. Short emails from men. And, worst of all, no emails from the men you desire the most.
If you want to attract an A+ man, you need an A+ profile.
e-Cyrano has been writing effective, authentic dating profiles for women since 2003. Not only have scores of clients gotten married thanks to e-Cyrano, but the average client reports her satisfaction with her profile DOUBLED after using our service.
Happy Clients
"I will never have to settle for a less than fabulous relationship ever again."

He recently started referring to us as boyfriend and girlfriend and it makes my heart sing. I really feel that we are moving towards the next level in our relationship and I continue to listen to "Why He Disappeared" on a weekly basis to keep myself grounded.

"You opened my eyes to the fact that my boyfriend left because he didn't love me unconditionally."

I am in such a better place today because of your insights and inspirational guidance. I was so stuck on getting him back, but now I realize that I don't want him back! I deserve someone who will love me unconditionally, no matter what.

"Without your help, I never could have imagined that I could be in a relationship like this one."

I'm in my 60's and expected that I would not have a committed relationship again. I'm still dealing with issues internally of fear and past experiences, as is he. But we can talk about these things and know that we have something special.

"I have read it 10 times already, and keep revisiting it every time I begin to even hint at a moment's insecurity."

Brilliant! Once you understand where men are coming from, which I would not have been able to do without the help of "Why He Disappeared," it is very simple!  I have never felt so relaxed around him, he knows this and wants to spend more time with me. His choice!

"Thank you, Evan, for enlightening me, having faith in women, and being honest with what 'is'!!"

The result of giving up the search for "why" is losing the worry, the wringing of the hands, the wondering if he will call, and all the stress and sadness that goes with the worry.

"I feel very fortunate that I gave him a chance and that he's in my life. The best part is that there is NO DRAMA!"

"Why He Disappeared" made me feel like I was in control of my love life and that it was not in control of me. Now I'm VERY happy with myself and my relationship. I can relax and not stress about the future, I'm enjoying the here and now and its so much FUN!

"Now I feel empowered and I am glad to be free of him, to find the one who will love me without question."

I learned, through reading "Why He Disappeared", that because of the fact that he did not commit to me, I really didn't want him back. I realized that I needed to find the man who would love me unconditionally for who I am, not for who he wanted me to be.