Everything You Need to Know About Men For the Rest of Your Life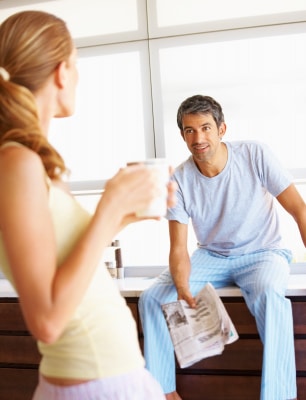 I'm assuming that you've got a rich, full life, complete with friends and family, work and hobbies.
I'm assuming that you've loved and lost at least a few times.
Finally, I'm assuming that you'd prefer to find a happy, healthy, nurturing, fun, passionate relationship that lasts forever.
If I'm wrong — if you'd rather be alone than to have a happy, healthy, nurturing, fun, passionate relationship — then my new FOCUS Coaching isn't for you.
If you're reading this right now, I'm confident that you want the real deal, but you're afraid.
If you don't put yourself out there, if you don't learn to understand men, if you just leave things the way they are now, nothing is going to change.
Afraid of putting yourself out there.
Afraid of being rejected.
Afraid that you aren't as good at dating as you are at every other aspect of life.
But most importantly, you have this fear staring right back at you in the mirror:
You're so afraid that you'd rather be alone than to risk getting hurt again.
And if that's the case, you've already got your own wish. There's no risk in staying alone — you can continue to live this way forever — but there's also no reward.
There's no one to cuddle with you on Sunday mornings.
No one to comfort you directly after a confrontation with your boss.
No one to surprise you with roses or fresh squeezed orange juice.
No one to provide you the unconditional support and companionship that you desire. And sex! Don't forget regular sex with the man you love!
If you don't put yourself out there, if you don't learn to understand men, if you just leave things the way they are now, nothing is going to change.
You'll read my emails one year from now and your love life will be the same.
Same frustrations. Same short-term flings. Same emotionally unavailable men.
By doing nothing, you're making that decision to keep doing things your way.
If that doesn't sound appealing to you — if you're fed up with being single and confused about men — you're going to LOVE FOCUS Coaching.
That's the name of the new coaching program I'm offering you on Tuesday, a result of my listening to all your responses to my surveys and blog posts.
What you told me, loud and clear, is that you wanted:
Something that covered a number of different relationship topics.
Something that enabled me to answer your personal dating questions.
Something that was affordable, even if you're on a budget.
By now you've already contemplated the cost of your own pain. How it would feel better to have an amazing relationship than to have a new kitchen, and so on.
So how much would it be worth for you to know the secrets of the male mind: what we think, why we act like we do, and what you can do differently to connect with us?
Because with my limited time offer that begins on Tuesday, I'm giving you a live, monthly, one-hour coaching call with me about the topics that YOU want to discuss.
I'll begin each call with short, 10-20 minute lecture on a given topic (understanding men, confidence, commitment, compromise, etc), and then I will take your questions, live, on the conference line for the rest of the hour.
And if that were all I were giving you, the years of frustration you'll save by working with me would be easily worth thousands of dollars.
But since my primary goal in FOCUS coaching is to give you the most value for the lowest price, you're in store for much, much more when you join me next month.
Check out everything else that comes with your FOCUS Coaching:
A CD of each month's FOCUS Coaching call. If you don't want to take notes during our live sessions, I will be recording and sending you a physical copy, which you can then put on your iPod for future listening. Imagine, having every single secret about understanding men with you at all times!
A glossy 4 page monthly newsletter, sent to your home, recapping the highlights of each month's FOCUS topic. If you're a more visual learner and respond better to written material, I've got you covered.
A professional FOCUS 3-ring binder, in which you can store all of your CDs and newsletters in one place. Unlike most forms of self-help, which go in one ear and out the other, you will have a permanent collection of wisdom to guide you through your love life.
Access to an exclusive FOCUS member forum, where you can interact with other women from around the world who are dealing with the same questions. Plus, I'll be on the Forum regularly between our monthly calls to provide additional support.
A digital and audio copy of my must-read eBook, Why He Disappeared. If you haven't read this before, it's the foundation of my philosophy for how to forge healthier relationships with men. Valued at $27 on my website, you get it for FREE, just for being a part of FOCUS Coaching.
A provocative hourlong interview with me conducted by relationship guru Rori Raye, in which I tell you how to connect with both alpha and beta males, how to develop a higher tolerance for disappointment, when to walk away from a losing situation, and how long it should take for you to know he's "the one".PLUS
The first 100 women to join FOCUS Coaching will be invited to attend an exclusive and intimate Q&A teleclass, above and beyond the monthly group coaching calls.
Because I'm loading this offer with invaluable content that will forever change the way you view, understand and interact with men, if you haven't already I would highly encourage you to sign up below to get on my advanced notification list, as well as my report "3 Ways to Instantly Improve Your Relationships With Men":
If you're on this list, you will get an email notifying you of the launch of FOCUS Coaching BEFORE everyone else.
So sign up below to get on my advanced notification list. Based on the hundreds of emails and comments I've gotten, you're clamoring for answers and I couldn't be more excited to give them to you, at a price that you can definitely afford.
Have a great weekend and keep your eyes peeled for one last video from me on Monday.
Much love.
Your friend,
Evan
*UPDATE: FOCUS Coaching is now available! Click here to learn more about this coaching program for smart, strong, successful women.