Are Women Good, and Men Bad?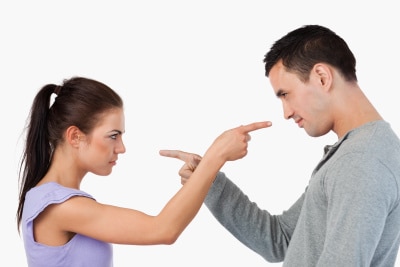 According to author Suzanne Venker, "the so-called rise of women has not threatened men. It has pissed them off… Men want to love women, not compete with them. They want to provide for and protect their families — it's in their DNA. But modern women won't let them."
When Venker asks men why they don't want to get married, men say the same thing over and over:
"Women aren't women anymore."
Venker's article on Fox News, and her new book, "How to Choose a Husband (and Make Peace with Marriage)" are decidedly controversial. I think Venker knows this and plays up her message, shifting the the blame for all relationship problems from men to women. This, I think, is a mistake. One gender is not to blame for all ills. Not men. Not women.
I wrote to Venker and asked her to send a copy of her book, so if I think it has any merit, I can share it with my readers. Without having read it, I can only respond to what she wrote in this one article.
If you date men, then, predictably, MEN are going to be the problem.
And while I don't agree with her hyperbolic language about women "surrendering to their femininity," which really does sound like some sort of flashback to the 1950's, I do think there she has a point about women sharing responsibility for their relationship failings.
I go to great pains on this blog to establish the same concept, and receive a good amount of pushback for it. As Venker wrote, "After decades of browbeating the American male, men are tired. Tired of being told there's something fundamentally wrong with them. Tired of being told that if women aren't happy, it's men's fault."
This is, by and large, true. Just as women should rightfully be outraged that Venker "blames" women and feminism for today's relationship woes, men are outraged that we are always perceived as the problem. It's all a matter of perspective.
If you date men, then, predictably, MEN are going to be the problem.
But if you date women (like men do), you may logically conclude that women are, at least part of the problem. After all, women are the ones who have changed more dramatically in the past 40 years. In gaining equality, they've embraced many male characteristics, blurred gender roles, and muddied the waters when it comes to work, money, responsibility, leadership, etc. This isn't a bad thing and I'm not trying to go backwards or put the genie back in the bottle.
However, as a result of these changes, women are dissatisfied with men, men are dissatisfied with women, and both tend to play the blame game.
That doesn't fly here. Look in the mirror, figure out who you are, figure out what you need, and you can find a complementary life partner, instead of blaming the opposite sex. What does that mean for my smart, strong, successful women? Well, it probably means that you should get used to equality. You will now have the same dating dilemmas as men.
DO YOU WANT TO FIX YOUR BROKEN MAN-PICKER?
If you're an alpha female, better get used to the idea that certain men don't find you attractive. Better get used to the idea that you may have to be the primary breadwinner. Better get used to the idea that the best fit for you is a more easygoing man, instead of the most "impressive" man.
In short, by becoming equal to men, women had better be willing to "date down" with someone who is less driven, educated, wealthy or ambitious.
Alas, we men have never called it "dating down". We just called it dating.
And we liked being able to choose partners based on kindness, fun, laughter, attraction, values and compatibility.
I hope women learn to value men for the same reasons, instead of height, education, and income. Because whether you agree with Suzanne Venker or not, you have to admit, changing gender roles make relationships more confusing than ever before.
Click here to read the original piece and kindly share your thoughts below.
DO YOU WANT TO FIX YOUR BROKEN MAN-PICKER?