How to Be An Online Dating Rockstar – 2 Slots Left for Online Dating Bootcamp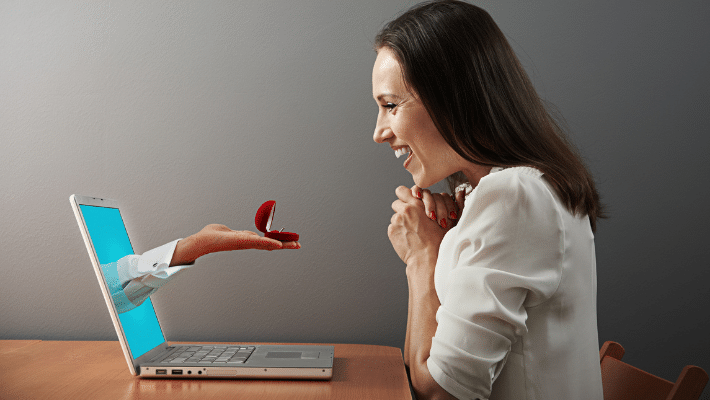 You missed a great call Wednesday night!
I love giving away important information and on the "The 6 Things You Must Do ASAP To Be an Online Dating Rockstar" I gave a ton of information out that you don't want to miss! Check out the recap of the call below, and at the end, read about my very special offer to you:
1) Rebrand Your Profile – From Scratch
I'd encourage you to look at your profile and spot instances where you use adjectives, lists of activities, and clichés like work hard/play hard, I don't know what to say about myself, equally comfortable in T shirt or little black dress, spending the night watching a movie/going out dancing.
What makes you different are your DETAILS. What makes you different are your STORIES.
Get rid of your adjectives and start telling stories and your profile will rock.
2) Update Your Photos
If your primary photo isn't close-up, digital, smiling, recent, you're not getting the traction you deserve. Remember, you're no better than your worst picture. Ever see that person who's cute in one photo and not so cute in photo 5? Don't let that be you. This is a highlight reel. You have to bring your A-Game. People have far too many choices and will dismiss you – the same way you dismiss others.
3) Broaden Your Search
If you've been reading me for awhile, you know that I got married last year. I never would have met my wife online. She's older than I am, she lived in a geographically undesirable part of town, we're different religions, different political parties. Yet we're going to spend the rest of our lives together.
Instead of closing off to people who might not meet your wish list – open up. You may be passing up your true love.
4) Put Forth Consistent Effort
You don't make money by NOT going to work. You don't lose weight by NOT going to the gym. You don't get healthy by NOT eating right. Wherever did this ridiculous idea that you find love when you're NOT looking for it come from? So get online for 20 minutes a day, do a reverse match, add to your favorites list, write to one or two people, respond to one or two people who wrote to you, and call it a day.
5) Employ Short Term Pessimism/Long Term Optimism
Rejection is common. The typical response rate to women writing to men is 25%. The response rate for men is 20%. Don't get excited about a cute profile or engaging email or fun phone call or chemistry laden first date. Get excited when he takes his profile down once and for all. Ultimately, you'll find love – you just have to have the patience to go thru the process.

6) Keep The Momentum Going
My recommendation is to try the 2/2/2 Rule: Two emails online, two offline, two phone calls and a date. This whole process takes less than a week and allows a woman to screen a man, get to know him, build trust, see if he has integrity and feel comfortable on a first date – while the man doesn't feel he has to jump through 1000 hoops just to meet you.
As to HOW you execute the 2/2/2 rule…how you flirt with men who offer their phone number…how you rejuvenate a flat email dialogue…how you write a funny and powerful first email.. that's the kind of stuff I will be covering in Bootcamp.
DO YOU WANT TO FIX YOUR BROKEN MAN-PICKER?
That's right. My newest Online Dating Bootcamp starts on Wednesday, September 2nd, and will jumpstart your love life in only 6 weeks.
Last night, I made a special offer to my callers and I because I believe so strongly in helping people find the love of their lives, I'm extending my special offer through Friday, August 21st.
I'm offering a  
$100 coupon code (august100) AND the Finding the One Online workbook
, which can otherwise only be accessed by buying my $297 audio program. This workbook contains eye-opening exercises in choosing a website, coming up with a witty username, creating a unique profile, writing confident first emails and so on.
If you want to end the cycle of negativity and start attracting better dates online, click on the link: https://www.evanmarckatz.com/bootcamp and get one of the three TWO remaining slots in Bootcamp – complete with the hundreds of dollars of bonuses.
See you in September!
Your friend,
Evan
Update: Online Dating Bootcamp is no longer available. Please check out my Inner Circle instead!
DO YOU WANT TO FIX YOUR BROKEN MAN-PICKER?