The End of Men? Not Quite.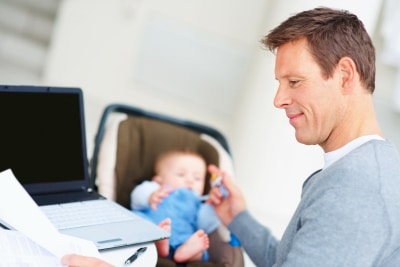 I'm a big Stephanie Coontz fan. She's a truth-teller who uses statistics to illustrate reality instead of using it to obscure it.
Her New York Times article from February was a revelation and taught me that the two biggest predictors of marital success were a man's willingness to pick up on his wife's emotional cues and his willingness to share in the housework and child rearing. This only went to further my theory that the best husbands were a little more sensitive, feminine and beta, despite many women's stated preference for manly men.
The best husbands are a little more sensitive, feminine and beta, despite many women's stated preference for manly men.
Coontz's latest piece takes on Hanna Rosin's "The End of Men", which has a central theses that we hear in the comments section below from time to time: men are in crisis. Women are taking over. Except, as Coontz points out, it's not really true. Women have made great strides in equality and may be better off than at any time in history, but their gains haven't come at the expense of men, as Rosin has suggested.
Says Coontz, "If the ascent of women has been much exaggerated, so has the descent of men. Men's irresponsibility and bad behavior is now a stock theme in popular culture. But there has always been a subset of men who engage in crude, coercive and exploitative behavior. What's different today is that it's harder for men to get away with such behavior in long-term relationships. Women no longer feel compelled to put up with it and the legal system no longer condones it. The result is that many guys who would have been obnoxious husbands, behaving badly behind closed doors, are now obnoxious singles, trumpeting their bad behavior on YouTube.
Their boorishness may be pathetic, but it's much less destructive than the masculine misbehavior of yore. Most men are in fact behaving better than ever. Domestic violence rates have been halved since 1993, while rapes and sexual assaults against women have fallen by 70 percent in that time. In recent decades, husbands have doubled their share of housework and tripled their share of child care. And this change is not confined to highly educated men. Among dual-earner couples, husbands with the least education do as much or more housework than their more educated counterparts. Men who have made these adjustments report happier marriages – and better sex lives.
You got that, readers?
Most men are behaving better than ever.
Domestic violence has plummeted.
Rape has plummeted.
Both educated and uneducated husbands are doing more housework and child rearing.
DO YOU WANT TO FIX YOUR BROKEN MAN-PICKER?
Women are not better than men. Men aren't all damaged and in perpetual crisis. For those of you who don't believe this, I am not surprised. Science shows that if you offer facts that contradict your feelings, it makes you believe your feelings even stronger – even though this makes no logical sense.
I'm not saying that there is no longer domestic violence, rape, or selfish husbands. I'm saying that the closer we come to true equality, the less that women are willing to tolerate subpar behavior. This is – and has always been my message. You don't like how a guy is acting? Dump him. Find a guy who makes you feel safe, heard, and understood. He exists…and lots of other women are happily married to him.
Check out the full article here and share your thoughts on whether you believe that men are the real problem in society – or if we're truly closer to equal than ever before.
DO YOU WANT TO FIX YOUR BROKEN MAN-PICKER?