My Fiancé Has Money and Treats Me Well, But He's Soooo Cheap! What Should I Do?
Generosity is a great character trait. But how do you figure out whether you need to manage your expectations or if you have a cheap boyfriend and need to find a more generous man? 
Read more to help keep love and money in proper perspective.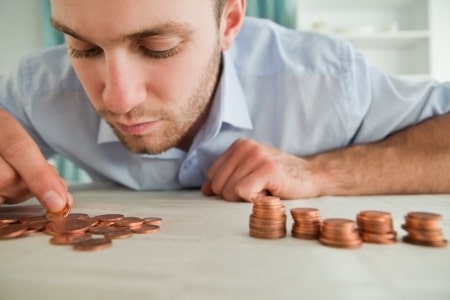 Evan, what should I do?
I am engaged to a guy who I have been dating for 4.5 years. I love him but I have so much anger and resentment towards him. He is a good person and we have a great time together and I enjoy his company/companionship. He always is happy to see me and be with me. We have a lot in common, but I feel we have some major core differences. He is extremely selfish. He is wealthy and I think this has affected his outlook on money. I am very generous with a big heart, but I find that I am always disappointed. I don't expect to be spoiled by someone, but he spends a lot of money on his (our) house, cars, gambling when he can, but if I need $200 to go to the store, he makes me feel awkward and here we are supposed to be getting married in December. All our finances are separate, I would be fine even with a pre-nup which I know is coming, but I am not fine with having a husband who puts himself that far above me because of his money. I do expect my husband to help with car payments, medical insurance, basic stuff, I am not even talking about shopping and material things, and this is a guy who is a multi-millionaire, and I made $100k up until last year because of the economy and now until I do something else, am only making about 45k. I am worried about marrying someone who would watch me struggle and not offer to help or was that spoiled that he doesn't have the "right" consideration for me. HELP!
Lara
You know what they say about rich guys, right? The reason they're rich is because they don't spend any of their money
Dear Lara,
You know what they say about rich guys, right? The reason they're rich is because they don't spend any of their money! Ha! I kill me.
So first of all, let's get one thing out of the way first: he's definitely selfish. There are plenty of people who have issues around money – including yours truly – but your multi-millionaire takes the very expensive wedding cake.
As I've said before, many women don't appreciate the difference between being cheap and being poor. If he makes less than $50,000, pretty much ANYTHING he does for you is generous. However, your guy isn't poor. He's rich, and yet you don't feel he is generous of spirit. That really sucks when you're facing a lifetime together.
But if you've been seeing him for 4  ½ years, I suspect you knew about this trait all along, but dealt with it as just one compromise you had to make in the relationship. It didn't suddenly surface out of the blue. "He USED to throw me $10,000 birthday parties, but now he only has the Pizza Hut staff put a candle in my calzone!"
I'm not going to defend his penurious ways, and I'm not going to suggest that you don't have the right to be frustrated. I am, however, going to try to look at the other side – something that you may not have done yet.
So let's recap: you love him, he's a good person, he's super-wealthy, you have a lot in common, you have a great time together, he's happy to be with you, and you're engaged to be married in December. Sounds like a promising start, no?
But there's this one thing – this big thing – you don't get out of him. It's a definite character flaw: no generosity. Yet he probably pays for the bulk of the house, car payments, medical payments, vacations, etc. He'll buy you things and provide a nice life. The only thing he doesn't want to pay for is you, spending the money that he earned. And since you're now making less, you expect him to make up the difference.
At least that's HIS perspective.
I think two things: he's genuinely cheap, and he genuinely loves you.
Your perspective is that it's not his money, it's your money – together. And even though you have everything you want in your life, you can't get over the fact that he's so stingy that he won't let you spend what he considers "his" money. In your mind, it's not about the money, it's about the principle! I hear you, and I'm sure a number of readers do, too.
The real sticking point is that his take on "his money vs. your money" is not changing any time soon. It's deeply ingrained in him. Which gives you two choices: leave him because you feel like you can't spend your life with a rich man who is cheap, or stick around and appreciate that you have a super life, filled with love, companionship, fun, and tons of material possessions – but your husband is simply a skinflint.
Life is about tradeoffs, y'know?
DO YOU WANT TO FIX YOUR BROKEN MAN-PICKER?
I also think you may be equating his lack of generosity with a lack of love. He can provide for you in 100 different ways, but because he's hesitant to give you $200 to go to the store, he doesn't truly love you. Do you believe that? I don't. I think two things: he's genuinely cheap, and he genuinely loves you. If he didn't love you, he wouldn't be marrying you. In his mind, he just doesn't want his wealth to be taken for granted.
Just the other day I was talking with a semi-successful guy – not a millionaire – who took care of his girlfriend when she was unemployed and couldn't afford to pay rent. The problem arose when, one year later, she STILL didn't want to pay rent because "he could afford it".   Ironically, the same way that she feels that "it's not about money, it's about principle", so does he. You think he should pay for you because he can. He doesn't want to pay for you because you assume he's supposed to.
Another thing: your boyfriend may be cheap, but I'd have to guess he's better than the rich guys who equate money with love. Their theory is: "If I buy you a Jaguar, maybe you won't notice how emotionally distant and abusive I am!"   These type of wealthy men   make the worst husbands because they think that they can buy your affection and don't have to actually, y'know, listen to you.
All of this begs the unfortunate and delicate question: is it possible that you take your boyfriend's money for granted? Maybe just a little? After all, you may have taken a pay cut, but you probably still live in a big house with a nice car and have everything you need. So while I'm not going to defend your fiancées behavior – cheap is not cool – I'd have to ask you one really tough question:
Would you be marrying him if HE made $45,000?
And, if not, are you also equating love with money?
It's not that I'm not sympathetic to your plight, Lara, but it's my responsibility to point out the side of things that you may not have already considered. Please let me know what you choose to do.
Click here to learn how I can show you the path to dating success!
DO YOU WANT TO FIX YOUR BROKEN MAN-PICKER?