Just got off the phone with a client and became inspired to write this piece.
My client is a nice guy. Mid 30's, intelligent, successful, and serious about finding a relationship.
We've been working together for a few months and he's been lamenting his lack of success.
I reiterate old themes, try to put things into a much-needed perspective.
I remind him that it's a competitive space, that it's a buyer's market for women.
He tells me that he doesn't want to have to lower his standards for online dating. The same women he can get in "real life" don't respond to him online.
I remind him that at a party, she doesn't have a hundred men lined up to talk to her. On Match.com, she does. The strength of online dating lies in its ability to give us access to total strangers; the downside is how difficult it is to keep their attention.
We go over an email that he wrote to a woman. She didn't write back. He wonders if he did anything wrong. I assure him that he did not.
He muses that it must be nice to have hundreds of people writing to you. I let him know that it's a burden for these women – and that lots of great guys get lost in the shuffle.
He reminds me that each letter he writes that goes unanswered is a blow to the ego. I told him it shouldn't be. You can't take online dating personally. Just like a baseball player fails 7 times out of 10, an online dater is going to get a lot more rejection than acceptance. Don't let the process affect you; just be grateful for the potential that it presents.
Finally, we get to talking about the woman he's writing to. They spoke on the phone last night for the first time. The conversation lasted for an hour and change. She asked for his number at the end. Mission accomplished. But my client wants more pointers.
"What do I do next?"
"Email her and tell her you had a lot of fun last night. Mention something specific from your conversation. Ask her a question or two. And find out the next time she's available to talk on the phone."
I'm a big believer in the phone.
"But what about creating mystery? I don't want her to think I'm too interested."
An old wives' tale, I assure him. But he's citing references:
"I read in David DeAngelo that nice guys finish last. And "The Rules" talks about waiting a week in between conversations to build up anticipation and establish that you're busy."
I'm paraphrasing, of course. But the gist of it is that all of the experts out there have people believing that the way to forge a happy relationship is by playing games.
I wrote about this extensively in a chapter from "Why You're Still Single" creatively called "Don't Play Games", but to reiterate: NOTHING GOOD COMES OUT OF PLAYING GAMES.
Playing games attracts people who plays games. It repels people who don't want to play games. And everything that you do that is in the least bit calculating is pushing you farther and father from what you claim to want – an authentic relationship where you can be loved and accepted for who you are.
Nice guys don't finish last. Nice guys without any balls finish last….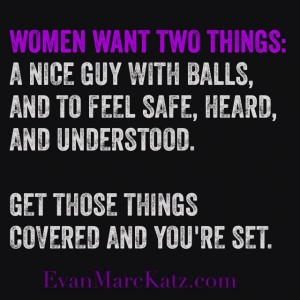 Ask most women what they're looking for and you'll get some version of "a nice guy with a little bit of an edge". They value his ability to be a man, take control, make decisions, speak his mind and march to the beat of his own drum. None of those things prevent a guy from being nice. They just mean that he's not a desperate kiss-ass.
Nice guys often confuse these two things. Because they've tried to "nice" their way into women's hearts and failed, they're convinced that they have to start being jerks. Uh uh. Decent women have no tolerance for jerks. They just don't want a guy who values himself so little that he has to try so very hard to impress.
The confidence that a man projects is the magnetism that draws women.
The kindess is what keeps women there.
Confidence without kindness describes "bad boys" that smart woman have long ago given up.
Kindness without confidence is the charge against the wishy-washy "nice guys".
But if you put confidence and kindness together…well, I'd say you have a pretty irresistible combination of traits for a man.
So let's sum up:
Confident men treat women well.
Confident men keep their plans after they make them.
Confident men can express vulnerability and caring without seeming weak.
This territory isn't exclusive to nice guys who finish last. This is for guys who won't bend over backwards to the point where they are spineless.
And in case you don't believe me about the game playing, here's the best example I can provide to make my case:
You know what a woman says when a guy she likes calls her the day after a date?
"He's so sweeeeet!"
You know what a woman says when a guy she doesn't like calls her the day after a date?
"He's a creepy, needy, stalker."
The phone call doesn't change her opinion. She's already made up her mind.
So if you're a nice guy who went on a nice date with a nice girl, try being authentic and call her the next day.
It would be a nice change of pace.