Why Do Men Have Such Unrealistic Ideas About Marriage?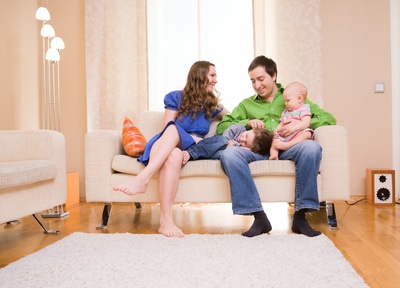 I came across your blog a while ago researching a man's point of view in dating and relationships. I read your blog religiously, plan on buying your books soon, and am trying to figure out a way to hire you as my dating coach. I appreciate your candor and approach when "giving it straight" and talk about you all the time and even refer to you as the "big brother" I wish I had.
That being said I am a 37 year old woman, who has never been married…and I think I may have stumbled across why.
It's been my experience in dating that in having conversations with the men I date, a lot of times hypothetical scenarios come up (which I find fascinating by the way)…that I rely on to help me determine their level of maturity and readiness for a serious LTR. Most times I am left feeling cold beads of sweat run down my back with their depictions of ideal situations, glossy perfect home life that reflect none of the messy burdens of real life that marriage often comes with. I feel confident that I have a truer sense of what marriage really calls for, based on candid conversations and experiences I have had and dealt with from friends and family members who are married.

I keep thinking that I will eventually find a man who is mature enough and wise enough who knows marriage is more than having a wife who prances around in her underwear, gives bj's on demand and cooks gourmet meals after working her 9-5. So far I am batting zero. If I sound a little cynical, I apologize but this is something I keep running into time and time again. Am I just fishing in the wrong "ice holes" or is there something I need to adjust in terms of expectations?
Thank you for reading,

Michelle
Dear Michelle,
If you change the gender and the stereotypes in your last paragraph, this email could easily be written by a man, describing women and their unrealistic expectations.
Alas, you date men. Therefore, men seem to be the ones with unrealistic expectations. If you dated women, you'd realize that this is not a gender-based observation. One of the primary reasons that there are 100 million single Americans is because everyone's expectations are a bit out-of-whack.
Men seem to be the ones with unrealistic expectations. If you dated women, you'd realize that this is not a gender-based observation.
At the same time, I think your email is much ado about nothing. Semantics, if you will. I mean, just think about it:
If you ask a woman to describe her ideal marriage, do you think it would involve watching a man get heavy, suffer from a mid-life crisis, manage stress associated with money and children, and muddle through decades of poor marital communication built on emulating bad parental relationships? Of course not.
Why SHOULD anyone talk about this stuff, even if it's inevitable? If you're on a date, if you're in a relationship, you probably want to lay out the best case scenario.
For women it probably sounds like, "We wake up in each others' arms. We have time to work out in the morning. The nanny has the kids ready and we join them for breakfast. I go to my fulfilling job in my home office. My husband goes to his. I pick up the kids from school at 3pm. My husband is home at 5pm. We play with the kids together, cook dinner together, put them to sleep together, and then make love each night, before starting all over the next day."
Here's the not-so-shocking part: men have largely the same marital vision, even if you're a little thinner and orally fixated in our fantasies.
My philosophy is that good relationships are easy. If they're not easy, they're not that good.
Here's the more shocking part: this fantasy is somewhat achievable.
This is why I do this job. I'm living that fantasy life. My wife is living that fantasy life. And I'm going to continue to do my part to get people to strive for that fantasy life, instead of selling them on the virtues of suffering.
Will all men be able to make it out of work at 5? Of course not. Will all households have support in raising their children? No way. But the fantasy I described should be the backbone of what we're all trying to achieve — a north star for people to aim for when reality gets a little bit messy.
My philosophy is that good relationships are easy. If they're not easy, they're not that good. With the right partner, all of this is nearly achievable. And if it means he has to make some sacrifices to get home at a reasonable hour and you have to give an extra blowjob per week, I'd say it's all worth it.