How Can a Sexy Woman Like Me Show Men Online I'm Not Up for a One Night Stand?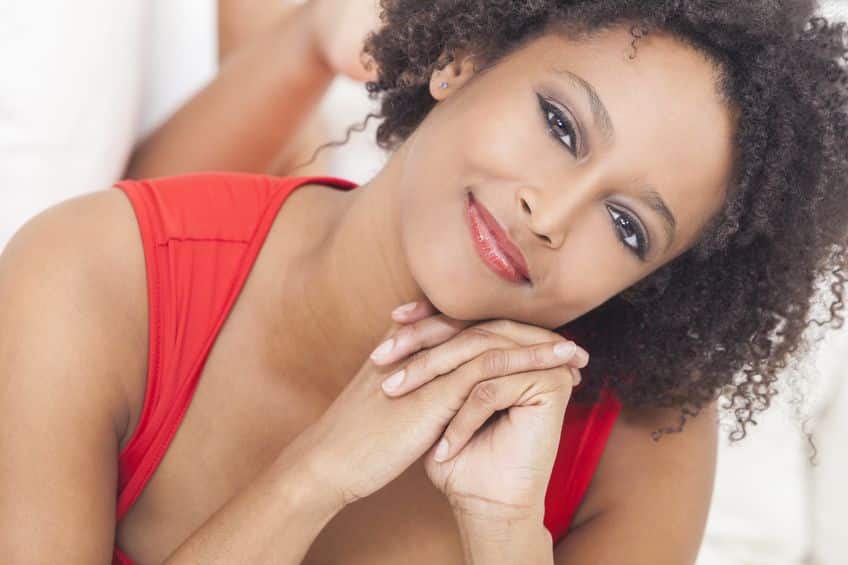 I recently made an online profile in the hopes of trying to find a man that I can connect with on a deeper level than the past. I've tried to learn from my past mistakes in dating and grow from them and I figured trying online dating would help widen my dating pool. The main problem I have is men only being interested in me for sex or being blatantly sexual when they first approach me. I am a very attractive black woman with a curvy body and I often feel like guys want black women for sex, particularly men of other races.
I'm frustrated because when I go out men make me feel extremely uncomfortable by constantly commenting on the way I look and men online get into sex very quickly. A lot of people don't understand why I've turned to online dating since I've been told I'm a catch and don't seem like I would have trouble meeting people. They're right, I don't have trouble meeting people but I do have trouble finding men that want to get to know me seriously and not just use me for my body.
I dress in a way that's flattering to me but I don't let all my stuff hang out. I have a degree from an Ivy level institution, am really kind and generally respectful to everyone. Why is it that men only seem to want me for sex? I think I have a great personality that matches my looks and am thinking of just deleting my profile since it's making dating more uncomfortable and is extremely disappointing. What can I do to show guys I'm girlfriend material and more than just a one night stand?
Thanks,
Nay
In 2004, "I Can't Believe I'm Buying This Book — A Commonsense Guide to Successful Internet Dating," a 31-year-old Evan Marc Katz wrote that online dating photos showing skin were a no-no.
In 2017, a 44-year-old Evan Marc Katz declares the younger Evan Marc Katz a hypocrite
I realized I was a hypocrite years ago; I just don't think I ever posted about it until now.
Bikini? Short dress? Cleavage? Yes, please.
The idea behind telling women not to post sexy, figure-flattering photos was to avoid attracting the "wrong" kind of guy. And I get it — on the internet, there are a LOT of "wrong" men who think nothing of writing the nastiest things from get-go. So, on one hand, there is plenty of evidence that sexy photos can bring out the worst in men. On the other hand, when forced to do a bit of soul-searching, I quickly realized something pretty important: evidently, this meant that I was one of the wrong men.
Bikini? Short dress? Cleavage?
Yes, please.
So what does that mean about me? Nothing — apart from the fact that I'm a red-blooded-American male and one of the only "experts" I know who is honest enough to admit such things publicly.
Which is why I no longer discourage attractive women with good bodies from hiding them.
Fact is, according to OKCupid, it WORKS.
Women with cleavage get 49% more emails per month.
Not only that, if you continue to showcase your sex appeal more as you age (when most women tone it down), you will have even a greater advantage than the younger women who show cleavage.
Since many readers tend to lose sight of nuance, Nay, I am certainly not encouraging you to go purchase boudoir photos, wearing a negligee, ass up on the bed, your finger parting your lips.
DO YOU WANT TO FIX YOUR BROKEN MAN-PICKER?
You're not selling sex here. You're accentuating your strengths in an organic way. Show a photo of you and your best friend on the beach last summer. Use a picture where you're dolled up for a night out on the town. Don't be shy about something that is form-fitting or shows a hint of skin. Just make sure that this is one of seven OTHER photos that show you in real life, dressed up for Halloween, attending your sister's wedding, or hiking in Runyon Canyon.
Sex isn't ALL that you are, but it should be a PIECE of who you are.
Women who neuter themselves in their online dating profiles are hurting their own chances to attract men, and falsely conflate dating (which ideally involves sex) with job hunting (which, ideally, doesn't.)
Sex isn't ALL that you are, but it should be a PIECE of who you are.
By the way, two notes that should make you breathe easier:
1. You can delete 90% of men right off the bat — including anyone who writes something aggressively icky.
2. You can date WITHOUT photos, as long as you have a great profile and email technique.
My thoughts on how to get men to fall for you without a photo can be found here.
Your thoughts on the effectiveness of showcasing your body in online dating photos are greatly appreciated below.
DO YOU WANT TO FIX YOUR BROKEN MAN-PICKER?