How Come Everyone I Want to Meet Online Isn't Interested in Me?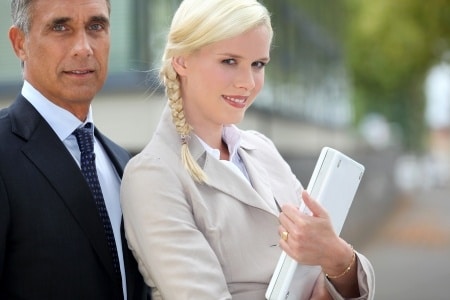 I haven't found a solution for this. How does a 56 year old man find a good younger woman that would be interested in marriage and willing to have children by him? She would need to be 36 to 38. Most good sites line me up with the 50 year olds and most 36 year olds tend to think I'm a dirty old man.   I know that such a person exists but can't find a good avenue to find her. I am fairly well to do and well educated.
Dale
Thank you, Dale, for acknowledging a few very common truths from the world of online dating.
You're a successful older man who wants to date a woman significantly younger than him.
Websites generally attempt to pair singles with matches who are demographically similar.
Most 36-year-old women think you're a dirty old man.
Now you're going to get the same song and dance as every other guy who has written to complain about women on the Internet. I'm going to put you in HER shoes.
So let's say you're a 36-year-old woman, entering the prime of your life. You're done with the bar scene and you're very much interested in settling down to have a family of your own. How do you set your search criteria? Well, if you're born in 1971, you're part of Generation X. You went to high school in the 80's. Your friends are buying their first houses and having their first kids. You probably want something that looks similar. So you search for men 35-45. Yeah, 45 is a little old, you say, but you want to be open-minded. Maybe he'll still be vigorous enough to keep up with your active lifestyle.
And then you, the 36-year-old woman, post your profile, and what happens? You get BOMBARDED by emails from fifty and sixty something Baby Boomers looking to trade up in the world. You double check your profile to see if there's something you wrote that's attracting these older men. You remove that reference to Steely Dan. You cut how you want to travel in style. Yet these men keep on writing — talking about how they're young for their age, how they'd love to have children, how they have everything in life except a good younger woman.
If you're 36, you're pretty darned confused by these emails. By the time you have your first child, you'll be 38 or 39. Which will make him, what? 58 or 59? By the time the kid is in high school, Dad will be 74! That's not the kind of life you imagined for yourself or your children. So you politely decline. Or, to keep things simple, you ignore. And ignore. And ignore. It doesn't stop older men from writing, but at least you don't have to explain yourself to a man who doesn't want to hear your perfectly valid explanation.
Understand, Dale, there is nothing wrong with you being attracted to a fertile and youthful woman in her 30's. Really. I'm not judging you. But you must understand that any woman you desire online has choices. Lots and lots of choices.
She can go out with a cute, successful man who is 35. Or 40. Or 45. Or 50. Are you getting the idea? This does not mean that you're not a great guy with a ton to give and the purest intentions. It's that you're failing to recognize what most younger women want. A peer. A partner. Not a father figure. You're still wrapped up in what YOU want.
Needless to say, this goes for ALL people who are dating online. … We want what WE want, even if what we want is unrealistic. We're all so dazzled by looks and youth that we pass up amazing people who are a much better fit. Who are you going to have more in common with? The woman who graduated high school in the same year as you? Or the woman who could be your daughter?
DO YOU WANT TO FIX YOUR BROKEN MAN-PICKER?
"I can't help what I'm attracted to," say all of my clients — both male and female. And hey, I don't blame them. I do know, however, that as long as they close their minds to dating people who are age-appropriate, they're really going to struggle with online dating.
I know you were looking for advice, Dale, so I don't want to leave you without it. As I see it, you have three options. One, sign up with one of those successful men/younger women sites. At least you know that a woman on MillionaireMatch might be more willing to sacrifice youth for security.
Next, since you can't convince someone to date an older man, stop trying. To find out who IS interested, try Match.com's Reverse Match. Instead of searching through hundreds of thirtysomething women who wouldn't give you a second look, Reverse Match shows you who IS open to dating a 56-year-old man. There'll be fewer numbers, but at least you won't be wasting your time.
Finally, I implore you to give older women a shot. There are a lot of amazing ones out there and they are criminally underappreciated.
Let's just hope that they don't discriminate against men their own age.
DO YOU WANT TO FIX YOUR BROKEN MAN-PICKER?