Frustrated with Dating Online? Here Are 3 Things You Need to Learn Now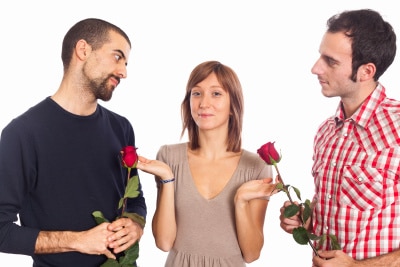 Hi Evan, I'm a big fan of the blog. I've been excited to start meeting guys in my new city (LA – same as you!) but I've already started feeling disappointed. I signed up for match.com and okcupid. It seems there are plenty of men looking on these sites but hardly any saying hello! And if they do say hello, the emails are boring – "Hey, I'm thinking of getting some sun this weekend. How about you?" Or they make me think these guys have me on a pedestal – "If you don't mind me saying, I think you are beautiful, and your profile seems so genuine. I hope you write back!"
I've taken your advice and posted pics of me looking fun, cute and active: wedding guest/bridesmaid pics, vacation pics, a fun sibling shot (labeled "with my bro and sis.") So what is the deal? I'm 29. I'm pretty and fun. In my bio, I basically state I am a "retired jetsetter who still wants to have fun, but do it on a local level." I've read a bunch of profiles and tried to reach out to men who were my equals, both in lifestyle and dating goals, but these guys haven't responded. I'm thinking, "We are SO alike, why aren't you responding?"
Granted, I'm just starting out, but it's already frustrating! How am I supposed to take these emails that I'm getting? I find them so mass-market, like I bet they copied and pasted and sent to 30 girls without reading about me at all. How do I get to the next step? Should I *wink* first? Are sending messages a bit too much? –Angie
There are two entirely separate issues being discussed here: one is that you are frustrated with dating online, the other is with the nuances of how it's done. Let's deal with them separately.
First of all, I want you to consider all the other places where you could meet thirty-something men in Los Angeles. Thru events from LA Weekly, thru email lists like Thrillist, thru random happenstance at the gym, at Ralphs, on Sunset Blvd, at the UCB Theater, thru Meetup.com, thru friends' house parties, thru work friends, and business networking, thru set ups, thru matchmakers, thru singles organizations, church or temple. And yet, despite all of those options for young people here in LA, it's tough
It's very easy to live in a huge city and never meet any men.

Online, you're ALWAYS meeting men.
That's why I believe in online dating. Not because it's perfect. But because "real life" doesn't always provide enough opportunity on a week by week basis. And unless you get lucky at the Grilled Cheese Invitational or First Fridays on Abbot Kinney, it's very easy to live in a huge city and never meet any men. Online, you're ALWAYS meeting men. Your ad is live for 24 hours a day for men to approach you, and if you log on for 20-30 minutes each day to reply and reach out to one new guy, your social life will instantly pop.
None of this changes the quality of men, the quality of how they market themselves, and the quality of their interaction — all of which is, frankly, abysmal.
But one thing I know from 7 years of doing this job is this: a great profile and witty email doesn't necessarily equal a great guy. And generic profiles and emails often mask amazing personalities. As a result, you really can't tell anything from online dating — you just have to make the best with what you've got.
This is what I discovered as a customer service rep at JDate in 2001, and it's the very thing in which I coach private clients every day: writing a unique, confident, specific, self-aware, witty profile that attracts more men and higher quality men; coming up with a one-of-a-kind username that instantly brands you and demands recognition, filtering through the wrong men, funneling the right men from email to the phone to the real life date, keeping a healthy attitude about guys and maintaining an open mind about why they do what they do. It's a lot of stuff, but it's finite and it can be conquered. Soon, everything will open up in your dating life.
Your job is not to stop the "wrong" men from writing to you.

DO YOU WANT TO FIX YOUR BROKEN MAN-PICKER?
So instead of complaining: "The wrong men always write to me!" you will soon remember that it's a numbers game, "Aha! Most men are the wrong men. In fact, 90% of guys I would never even consider dating. Which means that I can't get upset and succumb to dating frustration when I don't like 90% of the emails I receive. And I must be patient with my dating life because I'm only open to 10% of the population. The higher your standards, the longer I will likely have to date online." Simple shifts in perspective like this are life-saving, and allow you to persevere where you'd ordinarily quit.
Your job is not to stop the "wrong" men from writing to you. If you're 29 and cute, they're going to be coming out of the woodwork — 55 year old men from 100 miles away in some faraway corner of the United States, telling you that you're beautiful. Don't sweat those guys. Men copy and paste emails because such a low percentage of women write back to them. It's a bad strategy on their part, but you have to understand that they're FAILURES and be a little more sympathetic to them.
If you want a better online dating experience, you have to learn three things: how to write a better profile, how to flirt with men and keep them interested, and how to initiate contact with the men YOU want in a funny, confident way.
Click here to learn more about how to do it.
My far more effective than anything you've done before and it beats the hell out of more trial and error and frustration. Literally, my 64-year-old mother just went through all the Finding the One Online material and found someone in 1 month.
What do you think you could do if you learned how to do it right instead of complaining about how everything is wrong in your dating life?
DO YOU WANT TO FIX YOUR BROKEN MAN-PICKER?