How Do I Stop Over-Analyzing How My Boyfriend Communicates?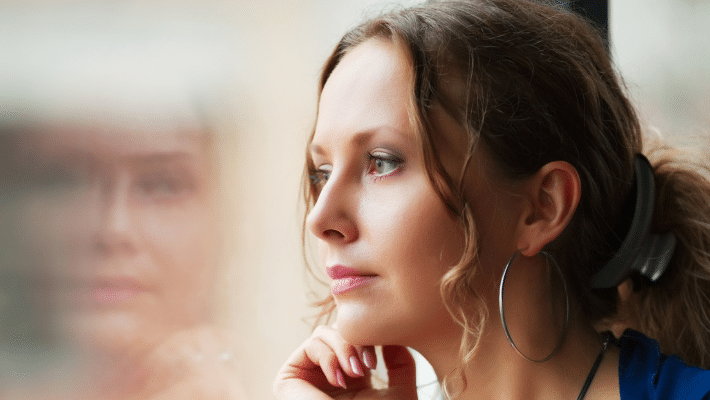 Hi Evan – I'm a 35-year-old divorced professional that stumbled across your blog when searching for something, anything that would help me gain perspective on relationships. For all my confidence in the professional world, I'm lost when it comes to personal relationships! I'm unsure of what I want, or what would be good for me. I analyze everything (I'm an engineer) and have a hard time letting go and enjoying myself. That said, I have come a long way lately, and much of it is due to what I have learned through you (I loved "Why He Disappeared" and have read it twice!!)
I'm hoping you might be able to offer some guidance on my current situation. I met a man online who I've been dating for about 5 months. He's divorced, has a good job, one child (I haven't met yet, which is OK), we're very compatible, have similar life goals and views on life in general. I have a great time when I'm with him and feel very comfortable and able to be myself. He didn't rock my world when we first met, but I've learned that sometimes you have to give it a little time. But….(there had to be one) I get frustrated by his communication style (or lack thereof.)
We talk fairly regularly and, for the most part, he's reliable and consistent. However, there have been more than a few instances of lapses that leave me feeling frustrated, confused, and disrespected. And that's what I don't know how to evaluate. Are these instances dealbreakers? Are they examples of a guy that really doesn't care? I just don't know. We had planned to do a day trip on a Saturday. He texted me on Friday to ask if we're still on. I replied that, yes, we were, and then I never heard back from him. I called him at 8:30 that night and left a message. I woke up on Saturday and got myself ready and still hadn't heard from him by 10:30 that morning. I texted him to ask if plans had changed, and he immediately called me back (from bed) and said that he was exhausted and just wanted to sleep in a bit. I calmly told him how it bothered me that he never communicated what the plan was. I told him I needed more communication than that. We still ended up going and had a great time.
Another example? He was 40 minutes late getting to my house the other day and never called to let me know he was going to be late. Sometimes I'll text him a question and never hear back. I might take a picture of something (the beach I'm sitting on, my friends' children) that I know he'd enjoy, and I never get an acknowledgement. They're just little things, but I find them inconsiderate. I know that I can tend to make a big deal about little things, and I don't want to do that now. I know that he's really a great guy, that he's not seeing anyone else, that he cares about me. He's considerate, attentive and tries constantly to please me when we're together. You have described over and over what a good guy does for a women he wants to be with. I honestly can't tell if this guy is coming up short or not. I've lost my perspective! I'm 5 months in. Do I fish or cut bait? When do you say "when?"
Beth
Dear Beth,
If I were to talk with your boyfriend, what annoying qualities would he tell me that you had?
If I were to talk with your boyfriend, what annoying qualities would he tell me that you had?
My wife would tell you pretty much what you can already figure out on your own: I'm a know-it-all. I can be sarcastic and short-tempered. I don't suffer fools gladly. I can't fix a single thing around the house. I don't always listen carefully. I can be overly critical.
There's more, but a man's gotta have a little mystery.
As for my wife, she has only two flaws:
She has never thrown out anything ever. We have shoes from 1989, dresses from 1995, and saltines from 2003. I kid you not.
She is perpetually 15 minutes late. I don't understand people like this. Just start 15 minutes earlier! But her family warned me about "Bridget Time" when we first met. Shockingly, it hasn't changed in the time we've known each other.
That doesn't mean that I don't bring up her 2 bad habits all the time (MY flaw – critical,)  but rather that asking her to change is like her asking me to stop being a know-it-all.
Not gonna happen.
We both have flaws. We both have to grin and bear it. And we both feel that the strengths of the relationship far outweigh the fact that I have to bring reading material wherever I go because of her slow pace, and she always has to listen to me rant about Republicans, customer service, and money. (I know: I'm a charmer!)
Anyway, I know I've hijacked your question to talk about myself once again, but I think it bears great relevance on your situation with your quality boyfriend.
I'm not going to defend the lapses in his behavior whatsoever. It IS inconsiderate to not call to confirm plans. It IS inconsiderate not to let you know he's running late.
But unless you want to scrap your entire relationship for these occasionally frustrating incidents, all you can do is ask him to be more considerate with such matters in the future.
DO YOU WANT TO FIX YOUR BROKEN MAN-PICKER?
If you make something a dealbreaker, it's a dealbreaker.

If you put up with it, it's just a quirk.
If he loves you, he will do his best to honor your request.
And then he'll forget, because that's who he is.
And you'll put up with it and make jokes about it and live a very happy life together.
Of course, you could "cut bait," but your future boyfriend would have some intolerable characteristics as well.
If you make something a dealbreaker, it's a dealbreaker.
If you put up with it, it's a quirk.
Your call, my friend.
DO YOU WANT TO FIX YOUR BROKEN MAN-PICKER?