Should I Dump My Parents So I Can Get Married?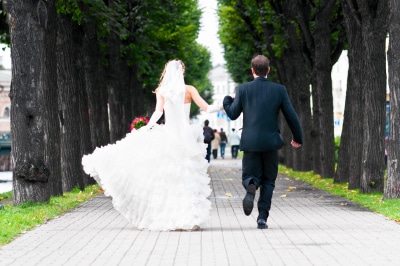 My boyfriend and I have been dating 7 months, and we're now preparing to get engaged. I'm 21 and he's 26. We've talked to both of our families about our intentions, and my boyfriend even asked my parents' permission for my hand in marriage. We've made a special effort to get to know each other's families, as we believe family intimacy is invaluable. We are both studying and have one year until we graduate so we can get full time work. However, my dad thinks that we're not ready for marriage even though he gave us his blessing. He thinks we should wait, but we plan to get married in 6 months as our relationship is moving forward and to stop things would feel unnatural.
It's a given we will struggle financially as students, but we're determined and committed to each other. My boyfriend is my best friend. We share the same values and know where we are going in life. I couldn't be happier when I am with him! My mum thinks that he isn't handsome enough for me, which is upsetting – I think he is gorgeous. Am I caring too much about what others think? Do I need to 'divorce my parents?' I love them very much, but I fear I'm letting them intrude too much on our plans to get married. Yet I can't let go of their opinions, and I feel it's putting a strain on our relationship.
Sarah
Aw, man. I'm already afraid of becoming a parent. The dichotomy of trying to protect your kids and allow them to make their own mistakes; I don't know how people do it.
And as much as I believe that you're in a healthy relationship and want to side with you, I think your parents are right, and that "divorcing" them would be a big mistake.
Here's why:
"Divorcing" your parents would be a big mistake.
You're 21 years old.
You're still in college.
You don't have independent sources of income.
And, most importantly, YOU DON'T HAVE TO GET MARRIED NOW.
That, to me, is the big blind spot here.
Everything you write sounds like a rational adult woman, except for this one line: "Our relationship is moving forward and to stop things would feel unnatural."
Really?
Couldn't someone say that at 15 years old? Couldn't someone say that after 2 months?
Just because going to church, signing papers, and throwing a party seems like a "natural" extension of the love you feel for each other, I will make the bold prediction that if you can hold out for 5 more years, absolutely NOTHING will change in your relationship.
And THEN you can get married, just as you plan to do right now.
If waiting that long makes you feel uneasy, ask yourself why.
Is it possible that your relationship will NOT be the same in 5 years?
Is it possible that you're going to change and develop into a different woman?
Is it possible that he's going to change and discover that he hasn't had enough experience with other women?
Yes. Yes. Yes.
It's all very possible.
If your relationship is solid, then there's no risk in NOT getting married in your 20's.
75% of marriages where the bride is under the age of 25 end in divorce.
ALL of them thought that they were mature enough to be married.
DO YOU WANT TO FIX YOUR BROKEN MAN-PICKER?
¾ of them were WRONG.
The truth is, if your relationship is solid, then there's no risk in NOT getting married. You can move in together, start your careers, go through the ups and downs of being young adults in your 20's, and then, when things stabilize, start a family.
But if you get married now, have a baby in 2 years, and struggle financially, odds are that your relationship will not be able to take the strain.
And if all of this logic isn't getting through to you, let's try it this way:
Remember when you were 16, Sarah? What did you know about life then?
NOTHING. And it was only 5 years ago.
The EXACT same thing will happen to you when you look back on 21-year-old Sarah in 5 years. And when 31-year-old Sarah reflects on 26-year-old Sarah. And so on.
I've been writing this blog for the 3 ½ years that happens to coincide with my relationship with my wife. I can't even remember who I was five years ago!
You don't need a wedding ring. You don't need to lock him in. You don't need a baby. If you think you do, it's all because you're afraid you're going to lose him.
But if your relationship is that strong, you won't lose him, right?
So don't divorce your parents. Don't do anything except get your degree, get a job, and agree to love each other unconditionally. Marriage will be there later.
Because while you'll change and he'll change over the next five years, the one thing that definitely WON'T change is marriage.
DO YOU WANT TO FIX YOUR BROKEN MAN-PICKER?