How Do I Get Men Outside My Race To Commit To Me?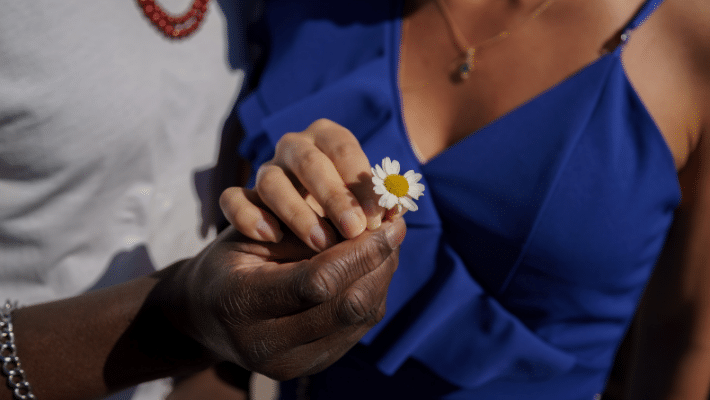 I have a question that I don't think you've been asked before! I'm a slim and attractive, successful black woman who only dates Caucasian men – but I can't get one to commit! It's so frustrating, I seem to be a curiosity. They all say, "I've never been out with a black women before" as if all my bits are going to be different to any other woman on this planet. If I'm lucky, they'll date me briefly, but it's purely about the sex! (I haven't had many sexual partners. I'm 36 and have slept with under 10.) I'm extremely fussy who I "put out" for. I'm on two dating sites: eHarmony and Match Affinity – both USELESS. I don't find most men on them attractive and, of the ones that I do, they don't like me! Anyway, I've just read your newsletter. You must be a mind reader as yesterday I was thinking of closing both accounts!
So here's my question: men clearly find me attractive, but how do I get a Caucasian man to commit? My sister gets men to commit but you wanna see the state of them – I have higher standards! I've spoken to my guy friends (all Caucasian) and their feedback is: it's rare that they meet black women (let alone attractive ones) and while they'd date one, they would never settle down and have children! Is this because most people picture their future from an early age and mixing it up doesn't quite sit right? I'm so sick of the "you're really attractive, why are you single" comments because I don't KNOW why I'm single. Even the men I have dated think I'm great – so why am I not great enough to settle down with??? In the UK, Caucasian women have no problems dating black men. It's not uncommon to see this type of couple – however, flip the coin and you're in a different realm. The only men I attract are the ones I don't fancy or have a different agenda to me! So I realise that in this ever decreasing dating pool, my numbers are even smaller than most women as I don't and won't date within my race. I just don't find black men attractive! So what to do – am I living in a dream world and need to maybe just get into my head that I'm meant to be single? Thanks, from a rather frustrated and almost desperate Jae!
Dear Jae,
Yes. You're living in a dream world.
To understand why, I need to pick apart your letter, line by line, and hold a mirror up to you, so you can see what I see.
You can't MAKE anyone do anything.
First of all, your question, "How do I get a Caucasian man to commit?" sounds as silly to me as, "How do I get a black woman to commit?"
You're a black woman, Jae. How would you answer that question if I told you that my black girlfriends always dump me?
If you were smart, you'd tell me one of these three things:
1. You can't MAKE anyone do anything, Evan. Therefore, any question like "How do I make Jae love me? How do I make her want to change her behavior?" is pointless.
2. If black women are attracted to Jewish men but don't want to marry us, there's not much I can do about it, is there? No more than some guitarist can complain that women are attracted to him but don't want to marry a 40-year-old guy who plays for tips in the subway. It may not be fair, but it's reality. So if a black woman doesn't see herself having mixed race Jewish kids, you're probably not going to be a good fit for her life, Evan –   even if you're both nice, attractive people. That's life.
3. There's no difference between black women and other women, Evan. They're just "women". So the question remains: why would any woman dump you?
That leads us to the next part of today's tough love post: "Why would any man dump you, Jae?" (Note to other readers: this a good thing for you to contemplate, too, since humility and self-awareness are the keys to any long-term relationship.)
From your email, I've learned a few things:
Stop looking down on nice guys who want to commit to you.
You have a big ego.
You don't find most men attractive.
You won't date within your own race.
DO YOU WANT TO FIX YOUR BROKEN MAN-PICKER?
You look down on the commitment-oriented white men who fall for your sister since they're beneath your standards.
Do I even need to say anything else as to why you're still single?
No, I do not.
If you want to find love, just undo everything I restated above.
Get over yourself. You may be attractive and successful, but quality men care more about your kindness and character and humor than how much you make.
Learn to give men a chance, even if they're not your type. After all, don't you want a bunch of Caucasian men to give YOU a chance even if you're not THEIR type?
Open up to black men, since that's the most obvious pool of candidates who'd be interested in you.
Stop looking down on nice guys who want to commit to you. They're better long-term relationship bets than the white men who are using you for exotic sex, don't you think?
I appreciate your frustration and thank you for your letter, but you're completely focused on things you can't change (white men!) instead of the only thing you CAN change (your perceptions, actions and reactions.)
DO YOU WANT TO FIX YOUR BROKEN MAN-PICKER?