I Don't Want Anything Serious. Or Do I?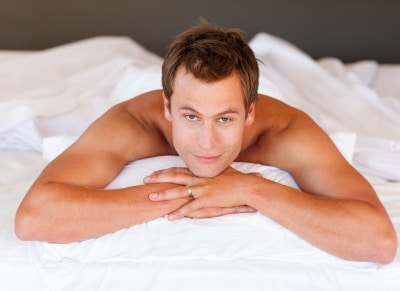 Evan, I'm in an interesting situation. I have deep feelings for someone in my "dating circle', have become the closest person to him, and yet I know I am not ready for anything serious, in fact I freak out at the thought of anything heavy. He isn't ready either, so we're in the same boat.
I am 30, and he is 40. We just like to watch movies, cuddle, hold hands, kiss, talk…we don't have to have full intercourse all the time, which I find soothing. He usually gives without expecting anything in return. It's a very sweet and fun situation, and I want it.
But I am a bit confused, since I've never been averse to a serious relationship. He has female friends he hangs out with and flirts with, (which I don't mind) but he doesn't have sex with anyone but me. Same with me. I "circular date", but he's my only sexually intimate partner. He tells me he highly values what we have. I really do too.

So, my question is: Is it okay to want this, since we don't want anything heavy right now?
  Any feedback would be much appreciated. Rori Raye recommended you to me and I am very curious as to what you have to say. She told me she's worried I might be lying to myself about what I want and she's not sure how he may feel for me. So she directed me to your blog. If a great instructor like her recommends you, you must have some good advice! 🙂
—Mandy
Mandy,
That's a kind recommendation and I'm feeling the pressure to live up to the hype. Unfortunately, it will be hard to give a solid answer since you didn't exactly ask a question.
Is it okay for you to want a casual, open, sexual relationship?
Yes.
Absolutely.
No question about it.
The two questions that immediately pop to mind are these:
1.   Why WOULDN'T be okay for you to want a booty call?
For the life of me, I don't understand. If you're not ready for anything serious, you enjoy this man's company, and nobody's getting hurt, then, by all means, enjoy his companionship for as long as you'd like.
If no one's getting hurt, two consenting adults can do whatever they want.
There are millions of people who are in these type of "relationships" and I would hope that most of them are choosing this voluntarily, instead of silently suffering, hoping that it will turn into true love.
Which brings me to question #2, originally posed by Rori:
DO YOU WANT TO FIX YOUR BROKEN MAN-PICKER?
2. Are you sure you don't want something serious?
If you are sure — if you're just out of a divorce, if you're going through therapy, if you feel the need to sow your wild oats, whatever — then this sounds like the perfect temporary arrangement. He sounds fun, respectful, and at peace with the status quo you've established.
Again, if no one's getting hurt, two consenting adults can do whatever they want.
But that only provokes me to ask you why you'd even be asking me this if you were entirely satisfied with the relationship.
Anytime a woman contacts me for dating coaching and says, "My boyfriend—," I cut her off and remind her that I don't coach women with boyfriends. Why? Because if you're in a happy, healthy relationship, you wouldn't be spending good money on a dating coach. And if you're NOT in a happy, healthy relationship, why are you even staying with him? Find a new boyfriend instead of complaining that the current one doesn't call, communicate or commit.
I sort of feel the same about your question, Mandy. From a moral and societal perspective, there's absolutely nothing wrong with having an open and mutually beneficial sexual relationship.
The only thing that could possibly be wrong is the thing that I can't possibly answer: how YOU feel about it?
Because if you're setting yourself up for heartbreak and can't handle the long-term ramifications of having a near-boyfriend who won't commit, maybe it's time to get out before you get hurt.
DO YOU WANT TO FIX YOUR BROKEN MAN-PICKER?