Why Good Relationships Are Easy (And Bad Relationships Take Work!)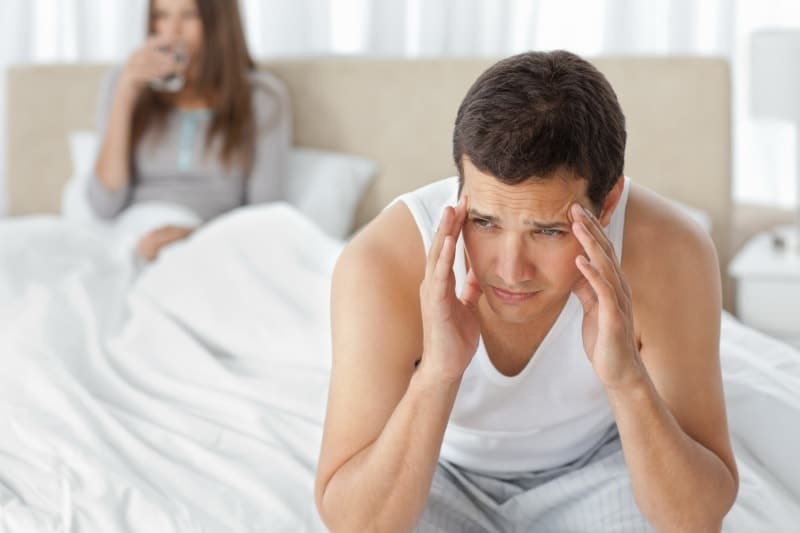 Over the past few weeks since you saw my Pyramid of Love, I've read your questions, comments and emails. You're always as honest with me as I am with you.
You've told me how much men have disappointed you.
You've told me you're wary of taking a chance and opening your heart again.
You've told me you're looking for a shortcut to immediately let you know if a guy is a player, slacker, jerk, or alcoholic.
With such men…
You will constantly cry.
You will constantly fight.
You will constantly be disappointed.
You will constantly question yourself.
You will constantly agonize about where things are going.
You will constantly obsess how you can love someone so much and be so unhappy.
All those relationship issues force me to ask you a tough question.
If your boyfriend doesn't consistently make you feel safe and happy, why are you in the relationship at all?
That may knock you sideways a bit. In fact, it may be difficult to admit to yourself:
You've hung onto the wrong men for your entire adult life.
In fact, that tenacity is a quality you took pride in – being able to push through, hold on tight and try to work things out with your partner.
Yet no relationship you've ever worked hard at has EVER lasted. Has it?
All relationships take some effort, but when that effort starts to feel like actual work, your relationship is not serving its purpose.
When I look at my happy marriage and the happy marriages of my clients, those relationships all have one overriding quality:
They're EASY.
If that sounds hard to believe, that's because you've never chosen an easy relationship before.
For you, love has always meant arguments, ups and downs and insecurity.
Or maybe you're used to placid relationships where you never fought, but you were bored, uninspired, unattracted, and constantly second guessing why you were there.
Understand, your struggles don't say anything about love itself.
They only something about the men you've chosen.
So please, consider this simple and priceless pearl of wisdom.
A good relationship is easy. If it's not easy, it's not that good.
Your entire life, you've tried to fit a square peg in a round hole.
For years, you've fallen for men and tried to justify why they were a long-term fit, despite all the evidence to the contrary.
You cried and fought, and broke up and made-up, and vented to your friends and family, all because you thought that this was NORMAL.
All because "relationships take work."
Sorry, but they don't take that much work.
Since 2003, I have helped women like you create better relationships.
If you read my emails regularly, you know: every one ends with a testimonial from a happy client who broke her bad man habit and found a better one.
I've been sending out these emails every week since the inception of my business.
So it's never been a question of whether coaching works.
The only question is what's the best way to do it?
I've taken my best material – collated from 1500 blog posts, 400 newsletters, 4 books, and hundreds of hours of coaching calls – and put it all into one curriculum.
It's called Love U – and for the first time since 2016, you can get affordable weekly coaching from me and ask me questions in an exclusive private Facebook group.
DO YOU WANT TO FIX YOUR BROKEN MAN-PICKER?
This program is only for women like you who are done wasting time on the wrong men and are serious about finding love fast.
This program is only for women like you who are done wasting time on the wrong men and are serious about finding love fast.
Soon you'll understand everything there is to know about the opposite sex, so that you can have the relationship you deserve.
This limited-time opportunity is only available until Sunday, May 12th, so click here to learn how Love U will change your life and how you can apply now.
If you're accepted into the program, your first call with me is on Tuesday, May 14th!
Warmest wishes and much love,
Your friend,
Evan
P.S. Thousands of women have graduated from Love U. Nancy is one of them.
A fifty-something widow who had been through two bad marriages, Nancy had little dating experience, little confidence, and little trust in her ability to navigate relationships successfully. After going through the short weekly videos and asking questions on the phone, Nancy wrote me this email:
I feel like I've been having some real 'Aha' moments over the last couple of weeks. The idea of 'embracing uncertainty' was significant for me. I got home last night after spending 11 days out of town. I have been listening to the Love U modules and calls on the road, and also spending time talking with some very good friends. I am feeling really good about where I am right now.  I'm happy with myself…how I'm handling my relationship with David…just happy. It feels great. My dearest friend, who I just saw, told me that she is seeing a lightness in my step. I love to hear that.
Here are some things that are really sticking with me from Love U:
1.  My communication style.  I have always tried to communicate in a kind, friendly manner.  In the past, I felt that I should be willing to be more confrontational, not so wimpy.  I really liked the module that spoke about the compliment sandwich. I feel affirmed about how I like to communicate.  There's nothing wrong with wanting to be kind….I'm not a wimp, I'm just a nice person.
2.  Acceptance.  I am embracing the idea of accepting your partner.  Really accepting.  I definitely entered both of my marriages with the idea that I would be changing my husbands.  How freeing to let that go, and focus on accepting a partner for who they are. And, of course, if I can't accept them, then they are not the right partner 🙂
3.  The module this past week where you shared your proposal story really hit me.  What impacted me the most was how you described your indecision, and how your wife could not (and should not) have changed anything about herself.  I like myself. I had work to do, definitely. I have to move past my fear and allow myself to open up, but at my core, I like who I am. I don't want to change.  The right man will like who I am, and won't want me to change.
Are you sick of changing for men who don't appreciate you?
It doesn't have to be that way.
You can find an easy relationship just like Nancy did.
Click here to learn more about Love U and apply for enrollment before doors close.
DO YOU WANT TO FIX YOUR BROKEN MAN-PICKER?