My Catholic Boyfriend Refuses to Have Sex With Me. Should I Try to Seduce Him?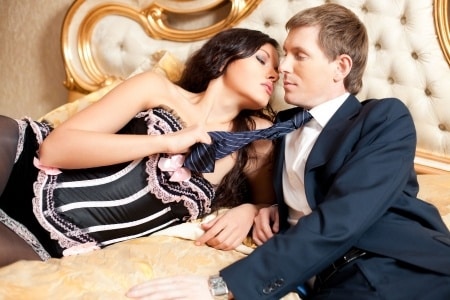 I'm 25, and Jewish but totally secular and non-practicing. I've been dating a Catholic guy for about two months. I knew he was Catholic at the outset, but I didn't know quite how Catholic. Well, he's pretty damn Catholic. I'm fine with the whole Jesus thing, but this guy doesn't believe in pre-marital sex! But I really like him and want to be in a relationship with him. But…I don't want to be in a relationship with someone who doesn't believe in pre-marital sex! So I have a dilemma. I keep thinking that I can convince him, rationally, that the Catholic ban on pre-marital sex is a stupid, pointless anachronism that is not relevant to today's world. He's intelligent and educated and responds to reason; I think I have a shot at changing his mind. I've told him very explicitly that I think his beliefs are wrong and I plan to try to change his mind. He seems fine with that.
I mean, in some sense I'm tempted to just try and seduce him. (We haven't done more than make out, at this point.) But I wouldn't feel right about that, and I wouldn't want to sleep with him if he would feel guilty or regret it afterwards.
I guess my question is, do you think it's possible to talk to him out of it? Is it disrespectful to someone's religion to set about convincing them that they're wrong? (I really don't respect religion very much, but I try to be polite about it.) And, finally, even if I were to convince him and we did have sex, would he be constantly plagued by lingering guilt and fear due to the years of brainwashing he's experienced? Is there hope for my project, or should I try to find someone whose beliefs are more compatible with mine? He's really really great aside from the whole religion thing, and I think there's serious potential here.
Just as background, he had a serious girlfriend for two and a half years. They never had intercourse, but did have oral sex, and he's said he was "never really comfortable with it". He's dated a few other girls but never so much as kissed them. So I take the fact that he's willing to kiss me as an indication that he must like me…
Julia
Implicit in believing your own bullshit is the idea that people who disagree with you are WRONG.
I'm running your letter, Julia, because it's a nice tie-in to the emails from virgins who are wrestling with their anachronistic worldview. You and me, Julia — we'll corrupt all of their minds one of these days!
I'm kidding, of course, because, as you know, it is not your job to change anybody's mind. I give advice for a living and, frankly, I don't see it as MY job to change anybody's mind. The difference between us, Julia, is that people come and ask me for advice because something isn't working in their life. They're looking for clarity, perspective, a kick in the ass. The Catholic guy isn't looking for ANY of that with you. He isn't asking you for spiritual guidance — he's asking you to enjoy spending time with him and consider a life partnership. Thus, imposing your evolved point of view against his "brainwashing" is somewhat of an exercise in arrogance.
Believe me, I know. I've been called arrogant more than once, mostly because I so strongly believe in my views and can ably articulate them. However, implicit in believing your own bullshit is the idea that people who disagree with you are WRONG. And even if you're a secular atheist Jew like me, it is certainly not your place to tell anyone in the world that they need to come around to your way of thinking. In fact, it sounds like a colossal waste of time and energy….  
I'm marrying a Catholic who is also pretty damn Catholic. But I don't spend one iota of time explaining the error of her ways to her. Why? Because they're not an error. They're her beliefs, they comfort her, and they are a fundamental part of the woman I fell in love with. She knows exactly how I feel, so what's the point of rehashing our differences? Love is about accepting someone for all that they are — and while sometimes it doesn't come naturally, I know it's something that's essential to our long-term happiness.
I've had a lot of women try to change me. I'm marrying the one who doesn't even try. Which is why I can say with some degree of confidence, Julia, that I don't think you've fully contemplated what it's like to date a person who is trying to change you. So try this hypothetical on for size:
You don't want Catholic Man as he is — a sweet, God-fearing virgin with Christian values.
Catholic Man thinks you're an amazing catch. Smart, logical, quick-witted, sexy (for, you know, the honeymoon) — you're the entire package. Except for one thing. You're Jewish. Your morals are questionable. And you're going to hell — unless you accept Jesus Christ as your savior. And while he really thinks he could be in love with you, he's not going to go down that path with a woman who would raise her children without a sense of God.
Sounds pretty awful, huh? To be with a guy who is proselytizing all the time? Who thinks your beliefs are silly? Who loves a lot of you, but won't fully accept you as you are?
Yeah, that's how you're treating this guy.
I'm all for the breakdown of religious barriers. I think the new atheists are onto something. And my fiancée and I have our own unique way we plan on raising our family. It involves compromise — on both of our parts.
But it's clear that you don't really want to compromise on this one. You don't want Catholic Man as he is — a sweet, God-fearing virgin with Christian values. You want him to be you — a smartypants secular Jew. And from one of us to another – that ain't happening.
Let him find his chaste bride who will accept him as he is, instead of constantly judging him for what he isn't.