Why Do I Still Get Dumped Even When I Settle?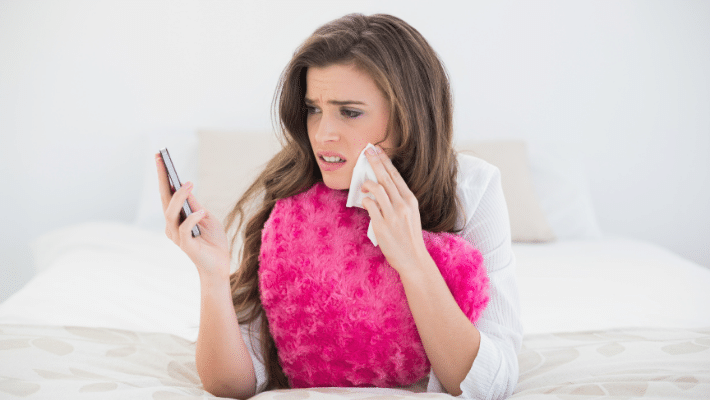 Evan,
I read your newsletter "Why Chasing Attraction is a Losing Strategy in Love" this morning. It was, of course, spot on and the same thing all of my non-single friends have been telling me for the past 5 years. As a woman in my mid-40's, I've actually come to (mostly) accept that advice.
I met a guy that normally I would not be physically attracted to and decided to give it a chance. Guess what? The dude broke my heart just like the hot men that I normally meet. Turns out he really wanted nothing more than sex. Now I hear from him every couple of weeks when he's in the mood for a bootie call. Unfortunately, now I'm attracted to him for reasons other than just the physical – which makes me feel worse! I'm attractive, physically fit, have a successful career and a sense of humor. What gives?
Honestly, getting my heart broken by the non-stud was more disappointing and heart-wrenching than getting it stepped on by the hotties. At least with the hotties I know what to expect. Any advice? I feel like I should just give up, stick with the hotties who want only one thing, and realize maybe that is all that is in the cards for women my age. But I'd really like to have a real relationship.
Nancy
Dear Nancy,
Sorry about your most recent heartbreak and thanks for your kind words about my newsletter. To synopsize what others may have missed, I made the radical suggestion that if you've spent your life chasing hot, brilliant men, only to discover that they are arrogant, narcissistic, selfish, emotionally unavailable and commitmentphobic, then it may be time to choose men who are slightly less attractive and intelligent but make up for it in love, devotion, kindness, humor, effort and loyalty.
Sounds like a good trade-off, no?
When you make yourself emotionally vulnerable to a man: it doesn't guarantee reciprocation.
Anyway, the positive takeaway from your email is that you tried it "my" way and, sure enough, you ended up falling for the guy. Hallelujah! You've just proven that it is possible to become attracted and emotionally connected to a man who would not have ordinarily been on your radar. Consider this a great new paradigm for the rest of your love life.
But there's a catch when you're making yourself emotionally vulnerable to a man: it doesn't GUARANTEE reciprocation.
And thus, you're left with this irrational feeling that it's better to get used by a hot player than to open up to the possibility of love with a "regular" guy.
Sorry, but that makes no sense whatsoever.
Unless, of course, you take some pleasure in getting used by hot men who have no capacity or desire for commitment. If so, fire away!
Essentially, you're saying, if I'm GOING to get hurt, it might as well be by a 10.
Um, I guess you could take that philosophy.
I would sooner look at it like this:
Men who are 10's on paper aren't always 10's in relationships.
You've established that men who are 10's on paper aren't always 10's in relationships. In fact, many of them are 3s and 4s in terms of consistency, effort, and commitment.
Thus, you've deduced that it may be wiser to date a man who is a 6 or a 7 in looks/brilliance, but a 10 in other areas that matter more in the long run.
Sound reasoning.
But men are still men — and just because he's not Brad Pitt doesn't mean that he's PROMISING to fall in love with you, that he's GUARANTEED to be ready for commitment, that he KNOWS that he wants to build a family at the same time you are.
DO YOU WANT TO FIX YOUR BROKEN MAN-PICKER?
In other words, 7's are men, too. Men with reasonable doubts, fears and issues.
You can wall yourself off from all men for fear of getting hurt, but that would accomplish absolutely nothing.
If you go out with a guy for 3 months and he says he's not ready for a serious relationship, what does that mean?
Does it mean that you were an awful girlfriend? No.
Does it mean that he's a selfish bastard? No.
Does it mean that you should never date another man like this? No.
All it means is that you invested in a man, the investment didn't pay off, and now it's time to find another man who gives you a greater return on investment.
That's it.
So stop with this silliness that all "lesser" men are obliged to worship you because they're not Brad Pitt. This is dating. You could have done the same thing to him.
It's not personal. It's life.
DO YOU WANT TO FIX YOUR BROKEN MAN-PICKER?