Should I Marry A Man Who Doesn't Want To Have Sex With Me?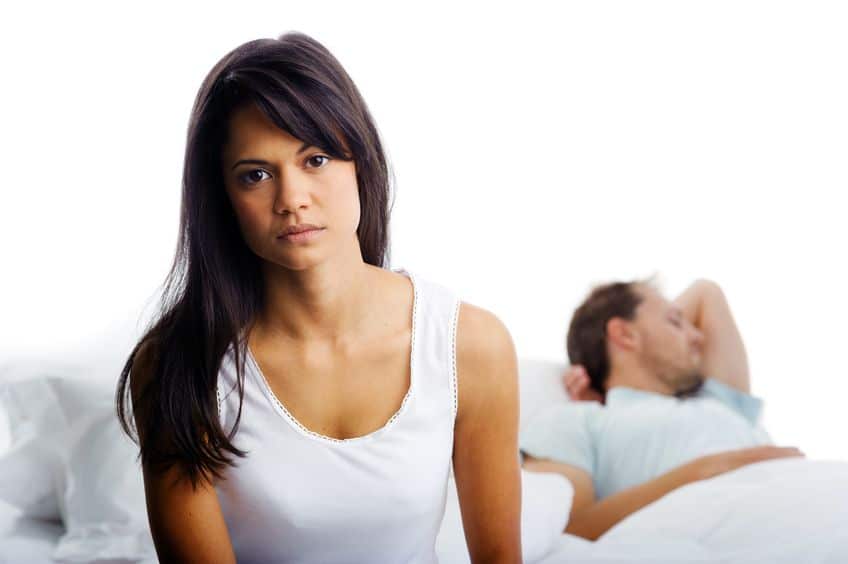 Hey Evan,
My boyfriend and I have been dating for almost two years now, and everything is great, I couldn't have found a more caring, wonderful person. He even loves to spend time with my family. I know he is planning on proposing soon, and for the most part, I am really excited about this. I love him. But we have some really big issues when it comes to our sex life, or lack thereof.
A few months after we started dating, we had sex, or I guess that's what you could call it. Anyway, I wasn't complaining, even at 27, I didn't have a ton of experience – I had only been with two other men. But then he never wanted to work on this issue, never wanted to approach it. Instead we would make out and then he would just prematurely stop at a certain point. I felt like I was in high school again. Eventually, about a year into the relationship he came clean and admitted that he was a virgin, had lied to me and had sort of freaked out when we slept together. 
I was upset at first that he had been lying for an entire year, but I can understand how difficult it can be for a guy to admit that and then to admit that he was lying.  However, it's been another year, and he hasn't been able to get past this, and I have just about given up on ever having sex again. Actually, I put an end to any physical relationship between us almost 9 months ago just out of sheer frustration. 
I have tried talking to him about this so many times, I have tried everything short of counseling and I just don't know what to do.  I have asked him if this is something he wants to wait till marriage for and he denies that…I guess I just don't know what to do.  I love him, and I know he loves me…but how can I resign myself to this for the rest of my life, at the same time how can I break up with a guy that I so want to be with?
Desperate
Dear Desperate,
You've got a big problem, all right.
And if you're gonna solve it, you have to put yourself outside your comfort zone.
See, the thing with comfort zones is that they're, well, comfortable. But just because something is comfortable doesn't mean it's healthy or good or ideal. It just means it's comfortable. And the longer you stay in that comfort zone, the harder it is to extricate yourself from it. Consider a job where you're happy with your co-workers, but severely underpaid. Or a job where you're paid well, but you hate your work. There's a strange sort of comfort in grumbling about the same sticking point over and over – knowing full well that it will never change. Apparently, it beats the alternative of getting another job.
You can complain all you want about the state of your sexual relationship, but apparently it doesn't matter all that much. Because next thing you know, you'll be married. Married to a man who doesn't want to sleep with you. And who's fault will that be? Not his. He's getting what he wants, a sexless relationship. You're the only one who is silently suffering. You are what psychologists would call an enabler.
You are what psychologists would call an enabler.
Because it takes two to tango. A woman can't be a battered wife unless she stays in a relationship with a man who beats her. A husband can't continue to be emotionally abused by the wife he left behind. But people stay because we are in love and because we don't know what we'd do if we left….
As always, Desperate, this isn't about right and wrong. He's not wrong for wanting to forgo sex, just a little weird. Or maybe gay. And you're not wrong for wanting to find a man who covets you sexually. I mean, seriously, there's only one person who should be doing it with you for the rest of your life and that's your husband. And if he's not, well, you're gonna want to look for it elsewhere. Aren't you?
Yet you've avoided this issue for over a year now, which makes you guiltier than he is. YOU were the one who cut HIM off sexually 9 months ago, remember? Hey, he may not even care, you could be doing him a favor, but you definitely can't complain that he doesn't put the moves on you. He's just following orders.
So, like the woman who is frustrated that her fiance won't marry her, the choice is yours.
DO YOU WANT TO FIX YOUR BROKEN MAN-PICKER?
But no matter what you do, you have to do SOMETHING.
Ask yourself if you're willing to spend your life with a beloved man who won't sleep with you.
Ask yourself if you're willing to spend your life with a beloved man who won't sleep with you.
If so, that's fine. Now ask yourself if you're willing to forgo sex forever. Presuming you're not, ask yourself where you're going to get it. And if your husband is willing to have an open relationship, that's totally cool. I just don't know if that's an ideal way to start a marriage.
Listen, I spend a lot of time here telling people to be open. After all, you can't get everything from one partner. But the one thing that's supposed to distinguish a mate from a friend is sex. And if you're not getting any sex, how is this guy anything more than your best friend?
Push the issue. Ask questions. Make decisions. If you don't, you're sealing your own fate.
Good luck.
DO YOU WANT TO FIX YOUR BROKEN MAN-PICKER?