You Didn't Lose The Person You Thought You Lost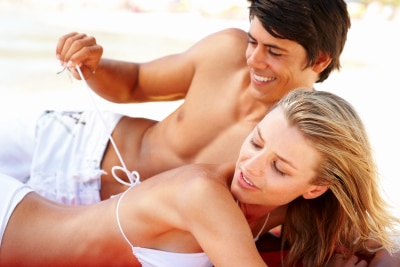 You know what it's like to get devastated when a promising new relationship doesn't work out? Well, take heart – you didn't actually lose ANYTHING.
In fact, you gained the freedom to find the person you ARE meant to be with.
It may not seem to be the case, but I want to point out to you that it's a blessing when your dead-end relationship finally comes to a close…
A client of mine shared a story with me recently.
A lawyer in her mid-50s, Carol said that she'd gone out with this new guy three times.
He was older, divorced, and a real gentleman.
Unlike many men she'd met online, this man made a great effort each time.
He'd make plans in advance, email her in between dates, compliment her when he saw her, pay for everything, and talk about having a future together.
He was even a great kisser!
But one night while the new couple was fooling around on the couch, things got a little weird.
To avoid going too far, too fast, Carol (after some heavy petting), said what I told her to say when putting on the brakes:
"I also want you badly, but I only sleep with guys that I know I'm in a committed relationship with. That doesn't mean that we can't do a lot of other fun things together, but I don't want the man I have sex with to be hitting on other women on Match.com tomorrow."
The idea behind this is to let the man know that you ARE into him, but that you have just this one very reasonable boundary.
Generally, guys can understand this.
If he's really into you, this is his chance to step up and become your boyfriend. If he's not, this is a clear sign to get out.
Either way, it's impossible for us to disrespect a woman who says she only has sex in a committed relationship. Even if we're not getting our instant gratification met, it's impossible for a man to find fault with a sexual woman who values herself.
A man's failure to step up to the plate and act like a boyfriend is Red Flag #1 that he's not a keeper.
Alas, Carol never heard from her guy the day after, or the day after that, or ever again. And when she started thinking, she started to get upset with me. After all, it was my advice that had killed her relationship. For all she knows, maybe if she would have slept with him, he would have asked her out again.
Uh uh. Nope. Fuhgeddaboutit.
Setting down boundaries for sex is a truth test – and this guy failed with flying colors.
I'm not suggesting that you "test" men. Not at all. But a man's failure to step up to the plate and act like a boyfriend is Red Flag #1 that he's not a keeper.
And this is why, despite her disappointment, Carol really shouldn't be all that upset. Nor should you be upset if you ever set a reasonable boundary and the man walks away.
What's a reasonable boundary?
Wanting to talk in between dates, making weekend plans in advance, committing to a relationship after three months.
If you suggest these in a reasonable way at a reasonable point in time and a guy refuses, then guess what?
He's NOT the guy she thought he was. You didn't lose your future husband. You lost the ILLUSION of your future husband. See, your future husband, when faced with the prospect of waiting for sex will do one of two things:
a) Decide that, yes, he does like you enough to be your boyfriend. He was just too afraid to push things that fast, but he's glad you suggested it.
b) Decide that he's not ready to commit yet, but he appreciates your respectable stance. You'll both get semi-naked, have a little fun, and no hearts will be broken.
Your future husband does NOT:
c) Bail like a rat leaving from a sinking ship.
So if you're worrying about why some guy disappears suddenly on you – without any reasonable explanation – the thing to know is this:
You didn't lose your future husband.

You lost the ILLUSION of your future husband.
You're OVERRATING that person's character.
He is NOT a good partner for you.
Be GLAD that you learned that this person is not in it for the long haul.
Remember, despite all your bad experiences, there are good men out there – men just like you, who are wondering where to connect with you.
The only responsibility you have is to continue to make the effort to meet them.