My Boyfriend Is Staring At and Flirting With Other Women!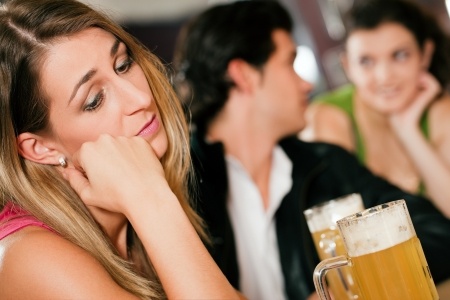 I'm dating this man, who on many, many counts is really wonderful. He's a very intelligent man, classy, generous, loving and not a womanizer. He tells me all the time how beautiful I am, and sexy, etc., and how lucky he is to have found me. He says almost every day that he wants to marry me, and how he misses me terribly when we are apart. That's all wonderful to hear! I feel the same way about him.
The problem is, that whenever we go out, he looks at other women. Not just the average-guy looking. He's staring at them. He gets so caught up in it, even while holding my hand and walking past shops, he'll head into one, if he sees someone attractive inside. He'll sit with me at restaurants and look. He's even go so far as to look behind me to see someone again, and has looked long enough many times to make eye-contact. Seems to try to make eye contact, too.
He's a very sociable guy. Says hello to most people (men and women). But he does have a shy side and is uncomfortable in large groups where he knows no one. He is also extremely clever with humor, and easily silly and good with the come-backs that are hysterically funny.
But it's these long-looks, or just about forgetting that I'm there right next to him, that are really bothering me. I'm not enjoying this. It's starting to ruin the relationship for me. It makes me question his feelings for me, and his comments that I'm so beautiful, and here he's looking at all these other women.
I know he's proud of how I look. He's told me many times that he feels that men are envious around him of me. I do get looked at often by men, but I don't make eye contact like he does. I think that it's rude to my partner, although I am tempted to show him how it feels! But I don't want to play games. That is not my style.
I've only once made a comment about what he was looking at recently. I couched it in a joking form, to make the comment, but let him know that I've noticed his staring. He got immediately defensive. I didn't ask him why, just said something to the effect of: "oh, it's the beer in her hand you were looking at?!" He bristled. I could feel his shock at my comment. He was completely silent and had no response. He must have stared at this woman for 10 minutes before he said he wanted a beer. Other than that, he seems oblivious to his behavior.
How do I let him know I'm insulted that he does this so consistently?
How do I avoid an argument that will be simply denial on his part, and be productive to let him know this really bothers me, that he goes out of his way to look/stare? How do I let him know that I don't trust his words, then, that he thinks I'm beautiful, etc., if he's got to look at every woman we pass by?
It's made me not want to go places with him anymore.
I look forward to your response!
Thank you,
Karen
I appreciate all the details you provided, Karen, because they paint a fully-fleshed out picture of your relationship. It would easy to demonize your boyfriend as evil, but you bother to mention that he is sociable, that he praises your beauty, and that he wants to marry you.
Which is why his over-the-top leering is so highly inappropriate….
Listen, if anybody in the world would be expected to defend an inappropriate flirt, it's me. I've toed the line for so many years that I don't even know where the line is anymore. That said, let's first assume a few things:
Number 1, let's assume that everything you said about your guy is true. He really does love you, he really does find you attractive, he really does see a future. This establishes conclusion Number 2 — namely, that if a man loves you, he doesn't want to hurt you. Sure, people hurt each other all the time, but in healthy relationships, the hurt generally comes from an unintentional place.
As always, I speak from experience. I had an ex who didn't like my flirting. Except she saw flirting at times I wasn't even flirting. I could be handing 84 cents to a 17-year-old checkout girl at a grocery store in Florida , or trying to coerce a 51-year-old woman bartender into pouring me a stiffer drink, but no matter what semi-attractive female I talked to, I got a mouthful afterwards. This was paranoia to the extreme. And it was counterintuitive and counterproductive.
Counterproductive in that yelling at me to change didn't really make me want to change. Counterintuitive in that she was trying to stifle the same charm she initially fell for. Talking to strangers isn't a habit — it's a personality trait — one that doesn't go away upon request. And to be clear, I'm an equal opportunity talker. I spent a half hour talking to a very attractive man in her presence at an art gallery, but didn't get chewed out for it. No, my crime was in talking to someone that my girlfriend felt was threatening — even though the threat was all in her head.
Talking to strangers isn't a habit-it's a personality trait- one that doesn't go away upon request.
So in case you're a woman reading this and you're trying to change his personality, save yourself the trouble and just dump him. Ultimately, this is what my girlfriend did — for the betterment of both of us.
Let's also distinguish the difference between flirting with intention and flirting without intention.
Flirting with intention is when you have a stranger on your lap at a party and you ask for a phone number.
DO YOU WANT TO FIX YOUR BROKEN MAN-PICKER?
Flirting without intention is when you smile and ask for your waitress' name. One is inappropriate, the other is benign….
If YOU'RE insecure about being cheated on, you'll find the waitress thing problematic. If you're not insecure, there's no reason to be bothered. This is YOUR issue, not his. Same goes for men who freak out when other guys check out their sexy girlfriends. If you fell for her because she's sexy, you don't suddenly tell her to dress like a nun out of your own insecurity. That's hypocritical and it's no wonder that creates unnecessary tensions in the relationship.
To bring this back to you, Karen, it sounds to me like you have a good guy on your hands who has a big blind spot. He's more oblivious than malicious. Which doesn't mean he's off the hook. By calling him out, you embarrassed him in a passive-aggressive way. Yes, he deserved it, but there IS a better way of handling it….
Namely, you need to have an emotionless heart-to-heart with him. Don't bite his head off the next time he does it. "The way you leer at other women is disgusting!" Instead, find a time when everything's humming along and say, "I've been thinking…" Now you have his attention.
Before you go for the kill, let him know that you love him and that 95% of the time he makes you feel special. It's just that this small percentage of the time, he might not even realize that he stares at other women. And it's not that you don't think he has the right to peek or find others attractive, it's that when his gaze lingers, HE MAKES YOU FEEL HURT. Believe me, no man wants to be responsible for making a woman feel hurt.
Believe me, no man wants to be responsible for making a woman feel hurt.
He'll be defensive, but he'll listen. And although he'll keep looking for years to come — his behavior is long-ingrained — he'll at least be more aware of himself and respectful of you.
It's ironic that you should have to appeal to his gentlemanly side when he's being such a lech, but it's true. Let him know that you feel hurt and he will do everything in his power to stop hurting you.
And if you find that you can't put up with his disrespectful behavior — and you have every right to feel that way — you know what you need to do.
Good luck.
DO YOU WANT TO FIX YOUR BROKEN MAN-PICKER?