How To Guarantee A Guy Calls You After Sex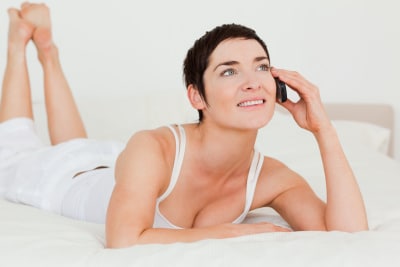 Hi Evan,
To explain why a great date doesn't necessarily mean anything to men, you wrote: "Instead of thinking in terms of black and white (He likes me/he doesn't like me), think in terms of grey. Isn't it possible that a guy can be out, enjoying your company, being thoughtful, telling you you're beautiful, kissing you at the end of the night, and never call you again?"   
I guess it's possible, theoretically. I am not a man, so it's difficult for me to understand. But why would a guy do that? For example, if I like a guy, and I had a good time on a date, I'd like to see him again. I think about it in 2nd grade terms, "I like a person, I would like to see them again. I don't like a person, I don't want to see them again" That applies to all people –  men, women, romantic or platonic.
You also wrote: "All you can do as a woman is not make the date "mean" something, because 50% of the time, as you can probably see, it doesn't mean a thing to him…"
Yeah, I think that's an assumption. I, personally, cannot SEE that it doesn't mean a thing to him, like I can't differentiate. When do things start meaning to a man?
So what distinguishes when a guy goes on a date, has a good time, but is just "in the moment, and doesn't call me back, versus a guy who had a good time with me and then calls me back? Is this "in the moment" feeling  premeditated, i.e. the guy knows this date isn't going to be serious, before the date occurs? Or does the "in the moment" feeling occur during the process of the date, which is dependent on the woman and on a date itself? So tell me about your experiences. How do you approach this dating, "in the moment" situtation? I am just trying to understand the psyche.
Maybe it's just me, but all interactions with people mean something to me. I feel that's the respect I should give to another person. And if they don't mean anything to me, then it's because I don't want to interact with that person.
Any clarification of this idea would be  very helpful.
Jean
Dear Jean,
I'm going to drop the dating coach bit for a second and just be a guy.
When I was dating prolifically, I'd be going out with two or three women at a time. And every single time I went out, I did two things:
I tried to be the best date I possibly could. I'd call, email, express interest, plan a good date, show up on time, etc.
I tried to make her want me really badly. I'd listen, I'd lean in, I'd flirt, I'd compliment her.
In short, I wanted every single date to feel good about me, so I would have the option of going out with her again. Sometimes, we'd hug goodbye. Other times, we'd drunkenly go back to her place. But no matter what, I was looking to keep my options open, have fun, and sometimes get a little action. And yes, I was always in pursuit of a long-term relationship. I just didn't want to deprive myself entirely of sexual activity until I fell in love.
By the way, whether you agree or not, I considered myself a NICE guy. I slept with very few people, I never said, "I love you" and I rarely kept a physical relationship going beyond a few weeks, if I felt it was headed nowhere.
To me, I felt like I was acting with integrity. To a woman who woke up next to me after a first date and thought that we were "in a relationship", I can see how she felt differently….
This is the bargain we strike when we're dating.
My friend, dating coach and matchmaker, Julie Ferman, talks about what a strange world we live in where we are more comfortable sleeping with a stranger than we are TALKING about what it means to sleep together. And it's kind of true, isn't it? Better to hop in bed and hope we can handle the emotional consequences than it is to have a weird conversation about commitment, right?
So if you really want to understand men, Jean, chew on this one for awhile:
Men look for sex and find love.
Women look for love and find sex.
DO YOU WANT TO FIX YOUR BROKEN MAN-PICKER?
You would never sleep with someone you weren't interested in.
We will. Gladly.
Until you GET this, until you truly EMBRACE the fact that we think with our penises and allow our brains to catch up weeks later, you're ALWAYS going to be surprised at the "disconnect" between men's words and their actions.
Our words are designed to charm you and make you feel comfortable.
Our actions reveal whether there's any deeper intentions behind our words.
So again, the only way you can tell if a guy is sincere is by WHAT KIND OF EFFORT HE MAKES FOR YOU AFTER YOU GO OUT.
Not if he told you he loves you, not if he slept with you.
Only if he calls you the next day to make another date can you be really sure.
And if you want to be positive that a guy won't sleep with you unless he's serious about you, then don't sleep with him until he's given you a commitment. You'll have a lot less sex, but a lot less heartbreak as well.
DO YOU WANT TO FIX YOUR BROKEN MAN-PICKER?